4 Best Social Media Apps to Help Market Your Brand
If your smart phone or tablet has morphed into an extra appendage, why not make it your personal assistant? With the right technology and apps to step your social media marketing game up, your business is sure to succeed. Here are the best social media apps to help you market your brand to the world while barely lifting your fingers.
#1 Feedly: Read and Contribute to Blogs
Reading and contributing to blogs helps companies stay relevant, remain adaptive, and build relationships. Feedly is a free app that allows you to view, read, and manage your blog subscriptions to stay current and involved. Having all your blogs available on one platform save a lot of time and increases productivity.
Feedly also conveniently works well with sharing apps. If you find a blog post that speaks to your aesthetic, whether you have a Google reader or other sharing application, share it to various social media networks by clicking on the site's logo.
#2 Buffer: Share On A Schedule
Image via Flickr by sermoa
Speaking of sharing, the free Buffer app makes sharing videos, pictures, blogs, articles, and tweets or status updates simple. Mix up your company's social media content by linking your business's Facebook, LinkedIn, and Twitter to Buffer.
The best part of Buffer is the time scheduling ability. Buffer has a max of ten separate posts a day and allows users to schedule times during the week that are ideal. This effectively improves time management skills and helps keep up regular social network participation. With a separate "Analytics" tab, Buffer evaluates what produces results for your business through retweets, clicks, and readers reached.
Additionally, Buffer works with Feedly to make content sharing easier. If you found great content while blog browsing, click the Buffer icon to put the article in the Buffer queue. According to your settings, the article will post to your social media networks when you want. However, as 6 Free Mobile Apps to Enhance Your Social Media Marketing mentions, using Facebook through Buffer can lower engagement ratio so use them together sparingly.
#3 Mention: Monitor Who's Talking

Mention works to monitor your business's marketing quality on social media networks. The app tracks brand name or keyword mentions.  Aware of these mentions and tags, you can reply at a fitting time and make a more interactive, personal approach to marketing that draws in customers even more.
But Mention doesn't apply solely to your company. The app offers alerts about your industry and competitors to see what's popular to consumers. Much like Buffer, Mention offers an analytics tool for a general overview and reports on your visibility.
Best of all, Mention perfects the shared responsibilities of the office environment. You can set up a team who will receive the same alerts so that they can reply in your place. Connect Mention to any of your social media networks on mobile devices, Lenovo tablets, or desktops to keep management moving.
#4 Flipboard: A Magazine of Ideas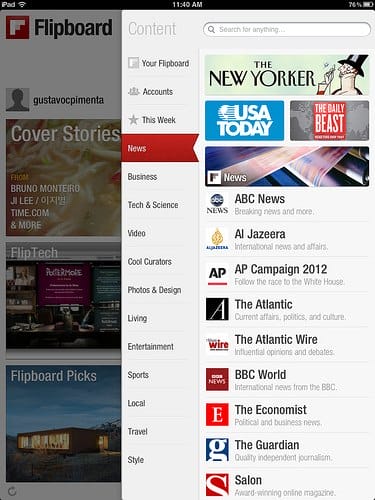 Image via Flickr by Gustavo da Cunha Pimenta
Flipboard is a content finding dream. Pair beautiful image quality and a clean magazine layout with choosing your own sources of information to find content that you can share with your readers, informing them of industry-related news and useful information.
Also, the app connects you to your social networks in the form of a magazine page to update you on activity, allowing interaction within the app and sharing. Particular to your marketing strategy, you can choose industry-related pages, popular videos, photo pages, relevant news genres, and add your frequented blogs and websites to keep your company trendy and in the know.
You don't need to spend every waking moment advertising; marketing your company means optimizing time brackets to spread awareness of your brand. Let apps play your little elves so your tablet or phone keeps marketing hard at work and as simple as a download.
Teddy Hunt is a freelance content writer with a focus on technology. When not behind a computer, Teddy spends the majority of his free time outdoors and resides in Tampa, Florida.