21 Pinterest Tips to Build Your Brand Visibility
Social, visual, interactive – Pinterest had since developed itself into a social media phenomenon where people coming in everyday for gift ideas, sharing discoveries and inspirations. The ease of navigating the platform attracts small businesses to expand their reach by sharing visual-compelling photos and resources for followers to like and repin. If you're into visual branding but haven't got on the 'Pinterest' bandwagon, perhaps it's time to reconsider your approach.
I hereby compiled a list of vital tips brands should know when managing their visibility on Pinterest, let's take a look:
#1  To Allow User Generated Content
Give your audience the opportunity to be your brand advocate by adding them as a contributor (or guest-pinner) to one of your Pinterest boards, like how Etsy did with their boards. Ask other pinners to email you if they're interested to join too. This is a great opportunity to extend your reach with indirect promotion done by your board contributors on their social networking sites.
To Read:How to Get More Pinterest Exposure With Less Work
#2  To Smartly Integrate 'Words' into Your Pinterest Images
This includes choosing the right:
Board name and descriptions
Board category
Keywords (file name of your pin)
Call To Action within the image, like 'Click to Learn More' etc.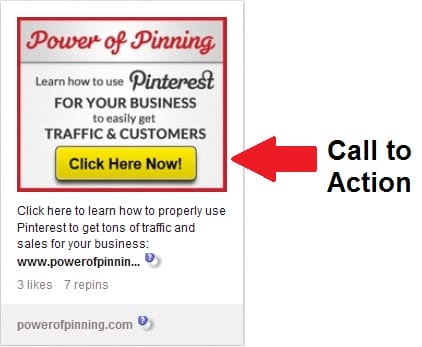 Think 'searchability' when uploading your pins. Words are important especially to encourage cross-posting by followers via social sharing integrations (Twitter, Facebook).
Tip: Add hashtag to your selected keyword if necessary, for example #socialmedia. If you are promoting a campaign make sure you are using the exact same hashtag for other social platforms too.
To Read: Why Pinterest Is NOT Your SEO Miracle Worker
#3  To Make Use of Humors, Infographics and DIYs
Inspirational quotes, infographics and DIYs are extremely popular on Pinterest. Is it possible to incorporate those into your pinning strategy? Be a content curator or share your industrial researches and inspiring ideas to enrich pinner's user experience.
Michael Stores is offering all kinds of DIY inspirations to pinners: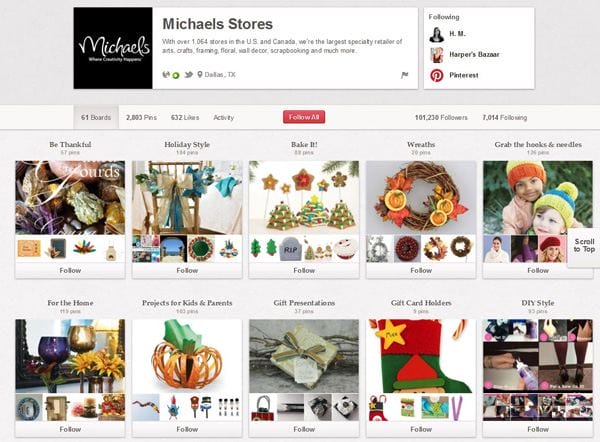 A decent idea to collect infographics related to your niche in one place:
#4  To Comment on Pins Regularly
Check out popular pins and learn how people react to them and comment. Contribute to the conversations by adding insightful thoughts (perhaps a little humor too if appropriate). Identify top commenters on your niche and build relationship with them. Mention them using @ and always credit the source for your pin.
Tip: Look at 'Recent Activity' at your Pinterest sidebar and start engaging with those who recently commented, liked or repinned from your boards.
#5  To Tell a Story on Pinterest
If you manage to share a story that resonates with your audience, people are very much willing to re-tell (repin) that story over and over again.
I love how Jan is sharing her personal story without giving out the content in the open. See how many people agreed with her after visited the link!
Tip: NEVER copy the entire article from the site. A longer text-pin may attract pinners at first-glance but it can be a turn-off as well. The character limit for Pinterest is 500. Instead to using them all, quote a small snippet from the article then add your own thoughts to it.
#6  To Monitor Your Brand Visibility via 'Source'
Check how your brand or blog posts spread in pinterest-atmosphere by tracking how many people are pinning from your website:
http://pinterest.com/source/YourDomainHere
Replace 'YourDomainHere' with your own link. Watch out for the pinners' descriptions and thank them for pinning if manage.

Tip: Make sure there is at least one image with a minimum size of 110 x 100 pixels or else people won't be able to pin your article directly.
To Read: How to Track Your Website's Content on Pinterest
#7  To Pin Videos, Slides other than Images
Use video to share a footage of a special event hosted by your brand (including 'behind the scenes'). Or you can create video tutorials for technical issues your audience normally encounter:
Or showcase your slide presentations on niche topics:
#8  To Create a Social Media Résumé Board
This is particularly useful if you are all about rich media and visual branding. An interesting approach by Christopher Penn to introduce himself and the work he does 'visually' to his followers:
#9  To Describe YOU/Your Brand with Style
There's nothing wrong to show more 'personality' of the brand (with core values) other than formal, industrial boards. Unless it's forbidden by your company, why not embrace other interests, trends by curating them according to your brand's unique tastes? One of the best examples I've seen so far is Hubspot (they sure know how to have fun!):
#10  A Little Shameless Self-Promo Doesn't Hurt
It's completely fine if you have a couple of boards to promote your work or products. Just spread out the pins and diversify the content. Don't force feed your followers with sales catalog.
Tip: Add the price in your pin description (with the $ symbol) will create a price tag for the item, which also features it in the 'Gifts' section where people can browse by price range.
#11  Remember to Drive Traffic BACK to your Website
Pinterest links are now NoFollow but it shouldn't stop you from pinning from your own website. Social signals now play a huge role in Google SEO too so think long term and pin regularly from your site whenever there's a fresh content published.
#12  To Build Your Email List (and Exposures)
Create catchy sign-up forms then direct the pin source to your landing page where people can exchange the goodies with their email addresses (but ensure the quality of your gift). Another way to boost brand exposure is by hosting 'pin to win' contests where users can help to spread the words for your brand by repinning. Make sure your pictures are pin-worthy but not some mediocre, random snapshots. Also, the prizes should be attractive enough while adhering to Pinterest terms of service.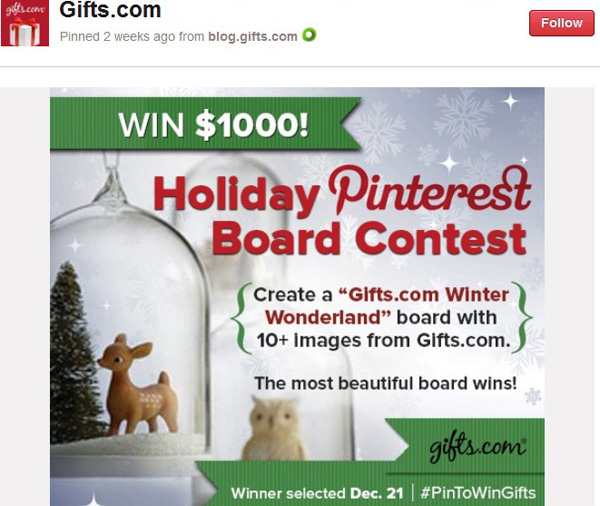 Tip: If you own a blog, leverage your Pinterest contest for referral traffic and persuade the contestants to stay as blog readers. Give them something to come back for.
#13  To Integrate Pinterest Effort into other Social Networks
Build yourself a trusted brand and packed with content that people from your niche crave for, then promote it with courtesy across your social networking sites. You can leverage your Facebook page to hold a pinning contest like GAP did via a third party app:
Before pomoting your boards in newsletters or emails, be selective and inform your subscribers upfront with what they expect to see with a couple of pin-worth images. This is a great example from Pinterest itself with 'pins you'll love':
You may create something similar or use a ready-made template for your emailing campaign like how Mailchimp did by integrating Pinterest in their service.
#14  As a Research Tool to Understand Your Audience Better
That's why it's great to connect with your potential/current clients or customers. Not only to build relationship but to understand them better – what they like and which type of images/products they are most interested in. Will you be able to improve your service/product to meet their needs?
Tip: Stay alert with the latest trend to present your work visually. Be reminded that people are constantly looking for inspirations and ideas on Pinterest. Think simple but make your pins appealing enough to get repinned.
#15  How about 'Milestones' on Pinterest?
Apart from the great resources or products your brand provided, there's nothing wrong to celebrate a few achievements, milestones and anniversaries.  A good way to motivate you and your colleagues while getting followers to cheer for your outstanding work!
Michael Korsis celebrating their big moments via a 'Michael's Milestones' board.
#16  To Create Seasonal Boards for Your Brand
Be contemporary and festive with at least one of your boards. Is your brand capable of creating a few holiday greeting cards or thank you cards for users to pass around? A great way to socialize even with people who are yet aware of your brand! Even if you're not creative, a seasonable board to share your interest might not be a bad idea as well.
Obviously I can't say 'No' to Christmas DIY and Crafts. Wish I have more time to dig them out: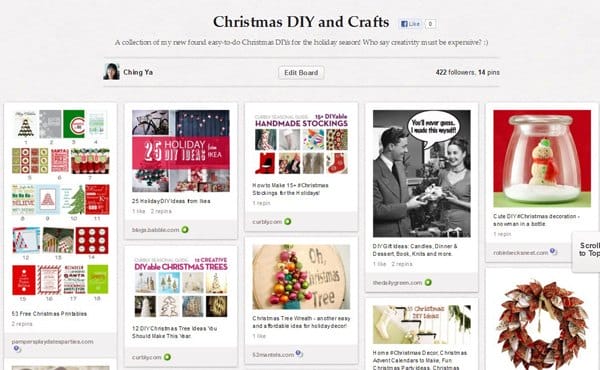 Or you can find another brand to co-organize a sweepstake in conjunction of the holiday:
Want to be inspired by bigger brands? IKEA created their new interactive catalog, encourage users to pin their wishlist and share with their family and friends. As for Pinterest, they even started a holiday-themed boards of 30 Days of Pinspiration for brands to inspire you:
Tip: Create coupon pins for special discounts on your products.
#17  Be Selective with What You're Cross-Posting
For syndication or when promoting a particular board on Pinterest, try to use the unique board RSS Feed so your followers can easily add it to their feedreaders and not get overwhelmed with whatever you're pinning on Pinterest. To access the RSS feed for your Pinterest board, replace the slash '/' at the end of your board link with '.rss' as shown below:
http://pinterest.com/wchingya/social-media-awesomeness.rss
#18  Deliver Your Survey Results via 'Infographic'
As I mentioned earlier, Infographic is one of the hottest visual trends and a popular tactic to encourage sharing. Your news outlets will be happy you do them a favor so they can promote your story easily and visually. Want to share your survey results? Next time do it with an infographic!
#19  To Make Full Use of Your Secret Boards
For now users can only have 3 secret boards. You can keep it private or invite a few people to contribute, depending how you'd like to utilize it for your brand's advantage:
Brainstorm ideas for future projects/boards
Secret board for discussions, exchanging ideas with selected community members, colleagues.
Motivational content that are not meant for public.
For organizing special events, occasions for a cause or someone.
Tip: You can turn 'Off' the secret board to make it public. However you won't be able to make it 'secret' again once converted. Remember, only the board creator can make the board public without the permission from other collaborators.
#20  To Verify Your Website on Pinterest
This is extremely important if you own a site and wish to extend its reach on Pinterest. The steps are quite simple as described:
Once verified, a red checkmark can be found on your Pinterest profile next to your URL.
#21  To Never Stop Observing and Learning
Whether you are a newbie or veteran in social networking, make sure you stay updated with the trends and familiarize yourself with how people getting about using Pinterest. Don't violate rules or mis-perform any kind of etiquettes that will bring disastrous consequences to your brand. And there's nothing wrong to follow your competitors, learn what they do and why they get tons of repins, how they respond to followers; observe the good while improvise the bad. Create your own unique approach, be more interesting.
By the way, are you on Pinterest too? Let's connect:

Now Is Your Turn
How has Pinterest worked out for your brand visibility so far? Any tips you'd like to contribute? Tell us in your comment.