31 Facebook Applications to Enhance Your Facebook Page
Every day we are exposed to hundreds of Facebook applications, hoping to find the perfect ones to enhance our page and fan engagement. Last couple of weeks I had a good chance to explore some applications during Facebook Page Customization that I never before mentioned in this blog.  I thought it would be great to jot them down and share it with my readers.
Be pre-warned this is a lengthy post. Go get yourself a cup of hot coffee and enjoy the ride (I do seriously need one now)!
Marketing & Brand Promoting
#1: Promotions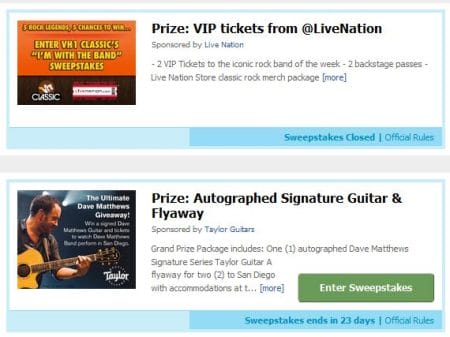 This is an application by a technology company called Wildfire. You are given a variety of campaigns to market your product/brand: sweepstakes, coupon giveaways, quizzes, contests etc. Promotion is one of the best ways to draw attention and increase facebook fan base. The only downside is that this service isn't free. The basic package costs $5 per campaign, the length of your campaign will decide the charges, for example:
You can preview and adjust your campaign to full satisfaction prior to publish (and payment). Signup is free so at least you can explore the service to learn more about how a promotion is made and what are the necessary fields to go with it. If you're unsure which campaign suits your business page the most, refer to this post for ideas.
Note: Make sure you read the Facebook Promotions Guidelines first before proceeding to avoid removal.
#2: Constant Contact labs – Join My Mailing List
Here's a good news for Constant Contact (email marketing service) users who are not into self-customized opt-in form. All you need to do is login with your credentials then add this catchy form as one of your facebook tabs (unable to shift to Wall as no options for box tab). During setup, make sure to assign the location of these emails (for example: general interest). Also, publish a shout-out so people who like your page (a.k.a fans) will know about it:
It would be great if Aweber and Mailchimp can provide something similar too.
#3: My Portfolio -[25/03/12/]no longer available
This application is specially designed for photographers, models and whoever wish to showcase their artwork in a professional way. It is said to have a clean interface, great for any artist to embed it easily without having to mess with Static FBML. However you do need to upload the photos to Facebook beforehand. During the settings, you can select multiple fan pages and decide which photo album to display.
#4: FAQ Page
Who would have thought fixing up a FAQ tab can be this easy? Create your very own page's frequently asked questions without even worrying about HTML coding, just input as many questions you need. Make sure to 'Save Changes' before leaving the setup page or Add New Faq otherwise your draft will be gone. To delete a question, simply click the blue [x] same row as the selected answer.
I have one placed on my fan page if you're interested to check out the sample. One can expand and hide the answers, plain and simple!
Media-Importing Applications:
#5: Viddler
I think all Viddler users will appreciate this facebook application – so convenient to setup! Simply type in your Viddler username and that's it! Record and upload video can be done without having to leave Facebook at all! Also, one can view and comment on videos easily. Did I mention it imports the entire channel too? Absolutely a fantastic app!
#6: YouTube Channels
YouTube Channels import your entire channel into facebook tab. It equips with social plugin (stream) for commenting, provides sharing option for visitors while showcase your other videos as well. It gives you the ability to insert a banner above your channel, but unfortunately it costs $4.99 per month to set one up in Facebook page. It's F.O.C for personal account without the banner option .
Good for those who are associating their personal profiles with pages. You can promote your business indirectly via YouTube Channels on personal account. One thing I dislike is the compulsory to fill up email address as shown below:
For those who are not willing to pay can consider using Involver with similar service – free to import your youtube channel and the ability to share selectively with your friends. However, it does not come with a comment form.
**Kindly take note that application tabs will be removed from profile (not pages) starting 3rd Nov 2010, refer here for details.**
#7: Flickr Tab
Love this application for it imports the entire Flickr account with sets of photos (publicly files only) and able to view them via tags. Fans can enjoy the photo streaming inside the facebook page. To customize the tabs or use it on your facebook page requires payment: $10/year or $20/3 years for VIP membership (free for personal profile).
Of course, you can always use Flickr tab by Involver, which I'll explain next…
**Kindly take note that application tabs will be removed from profile (not pages) starting 3rd Nov 2010, refer here for details. So no more FREE apps from Tabfusion**
#8: Involver
Ah yes, we've heard so much about it offering free services to import YouTube channels and Flickr accounts. Actually Involver provides more than that: import Slides, PDFs, Photo and Promotion Gallery. As long you're not bothered by their big brand name at the side of your tab then it should be no problem. They do provide premium package as well for customers who are willing to take a step further with signup form, coupons, even eliminating the brand name, but that's optional. Here's an example of Mashable's Twitter tab using Involver, notice the ability to share the tab with your friends selectively – available for both free and premium users.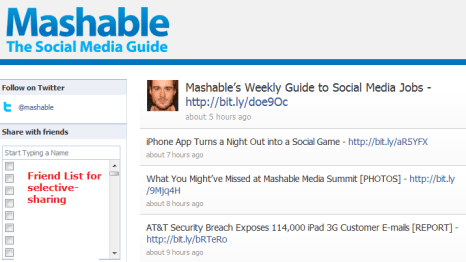 #9: Portfolio tab
Portfolio tab bundles Flickr, Twitter, YouTube and Blogs under one facebook tab. It works brilliantly for personal profile where you can have clickable buttons for each social profiles similar to a mini-website.
Flickr Tab at #7 is an example of how each social tab would look like as a stand-alone tab. Before this, I was looking for a blog application with post excerpts but without comment form. Blog Tab fits right for the category and I have it setup now on my personal profile. The fonts are much bigger than Social RSS; post title links to my main site, just how I like it. In order to have an all-in-one tab as shown above, you need to authorize each tab individually before merging them altogether. Same as Flickr tab, this service is not free for Facebook Page (bummer, isn't it?) but should be great to try out on your personal profile for extra visibility.
**Kindly take note that application tabs will be removed from profile (not pages) starting 3rd Nov 2010, refer here for details. So no more FREE apps from Tabfusion**
Fans/People Who Like Engagements
#10: Clobby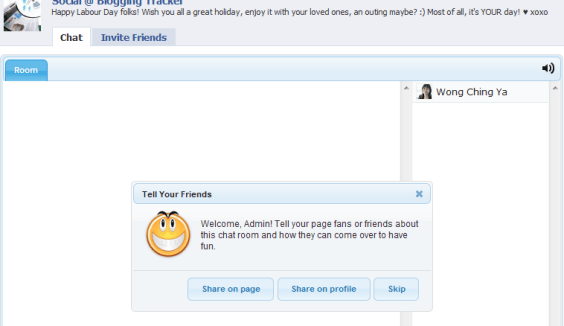 Clobby is a chatroom app for both personal profile and facebook page owners to communicate with friends/fans instantly. Great for casual chats so you won't have to worry about flooding people streams with continuous postings on Wall. I did a post about Clobby on my posterous blog after testing it. Read about it if you're interested to know more about the settings and review.
Social Media Profiles
#11: My LinkedIn Profile
Yes, I had mentioned this application in earlier post. However, there are slight changes for this application in terms of name and settings. Instead of fixing it at the left column as a social button, now it is displayed as a Facebook tab with your complete LinkedIn summary. This is no doubt a smart move for LinkedIn account integration.
#12: Page List
If you own multiple facebook pages and dying to share them with your fans but unfamiliar with codes or Static FBML, Page List is a good choice for you to display all pages in one tab. People who like your page can choose to visit all of them or do it selectively. Of course if you only manage one facebook page like me, no point of setting a tab for that. The above image is just for your reference only. The setting is relatively easy as well, make your page selections and save changes. If you wish to include your selections to other pages, look for 'add to page' on top of the dashboard.

Vpype Live Broadcaster provides you the ease to create live shows to millions of Facebook users. Great opportunity to meet new fans and interact lively with viewers. You can record the show then promote to fans with a 'Show' tab as shown above. It works well for personal profile too, get family and friends to participate has never been easier. Just get your microphone and speaker ready, then follow the steps below for configuration.

Others:
These facebook applications might not be for everyone but can be useful for some:

#14: Creative Commons License -[25/03/12/]no longer available
This application allows you to specify how your media files and updates can be used by others with six Creative Commons licenses given. Be sure to choose one license that fits all the items shared on facebook and not individually. This is particularly useful for users who are sharing their artwork on Facebook. Although this application does give us the option to 'add to page', but the 'CC' tab returns with an empty box. If you are to use it for Facebook Page, recommended to save and upload the image to your server, then place the link inside image embedding code with the help of Static FBML.
#15: Menu
If you're an owner for a restaurant, what can be more suitable if not having a menu tab on your fan page? You can include phone number (for delivery, maybe?), display set lunch or special of the day with pricing too! Love these non-complicated tabs to save time and trouble.
Important Notes: Application Removal
You may enjoy testing out these applications but do bear in mind: If you're not going to use it then remember to remove them from your account:
1) Personal Profile:
Account > Application Settings > click 'x' to remove application completely


2) Facebook Page (fan page):
Edit Page> Look for the application name > Remove Application
You should do the same for other social media integrations. For example, if you have previously linked your Twitter account to test out Twitter tab, remember to revoke access via:
Logged in Twitter> Settings> Connections> look for the application and 'Revoke Access'
Now Is Your Turn…
How do you enhance your Facebook Page in terms of application, strategy and fans engagement? Share your success stories or opinions on how to enhance a facebook page in the comments below.