7 Facebook Changes You Must Know in New Profile
Last week, I had a major issue with my PC so I brought it down to the technical center for maintenance. As I was sitting there waiting for my turn, I overheard two ladies talking about the new facebook profiles and how they are missing the old layout. One of them said that she is now having a hard time locating the tabs while the other is unable to keep up with her own status since it is no longer on top of her profile!
Can't blame them, we are all in the same shoes after the new upgrade – adapting. Like it or not, it is coming to all personal accounts:
"We're really excited about the new profile. We're rolling it out gradually and plan to get it to everyone by early next year. You can upgrade immediately or learn more about the new features" – facebook official blog
People are not prone to sudden changes so when this happens, uncertainty kicks in and complaints took over most of  facebook blog comments. Although facebook prepares a brief intro about the new profile prior to upgrade, but fact is there are more one should know about the new profile, let it be good or bad:
7 Things You Must Know about Facebook New Profile
#1 A friendlier way to promote your profession and experiences
Users' professional experiences and interests are highly emphasized in the new profile. Employer section has moved up to the highest point in Info tab, allowing friends a sneak peak of your professional and educational backgrounds above all else. So to prevent community page from stealing your hot spot, attach your official business page as your employer today. Great advantage if you are to promote your fan page on personal profile that way.
For each added 'Employer', you may add in projects and tag friends whom you had shared the experience with. And if you want to be notified whenever someone tagged you in their profile,
Go to your Account -> Account Settings -> Notifications -> Facebook -> Tags me on their profile:
#2 Photo-tagging is a big deal – Control it!
Instead of your recently uploaded photos, facebook chose to have your most recently tagged photos to be featured on top of your profile. You should know by now there is no way to stop friends from tagging you, so if your friends are constantly doing that it's important for you to have better control over who can view your tagged photos with privacy settings.
Another thing you can do is to mouse over the tagged photos and click 'x' at the top right corner to hide them or de-tag yourself from these tagged-photos, simply.
If you are the creative type, then you probably enjoy some fun tagging your ownself in order to setup a custom photo-collage as your personal billboard:
Ok, mine is not the best work but you'll get the idea. It's quite easy with each image approximately 97×68 pixels in size and arranged so the farthest-left image to be tagged first. But you do need to watch out so your friends won't abuse its use and tag you for some practical jokes. One of the best way is to make sure the check box for 'tags you in a photo' is ticked at all times so you can respond immediately.
Go to your Account -> Account Settings -> Notifications and look for:
Updated: Great tip from one of the commenters, Lauren for introducing the Profile Banner facebook application – a non-technical way to add your own profile banner easily. Check it out!
#3 Less control over the facebook tabs
The default tabs are basically Info, Wall, Photos, Notes, Friends but their visibility will be controlled by your privacy settings completely. For example, tweak the privacy setting of your notes before publishing them: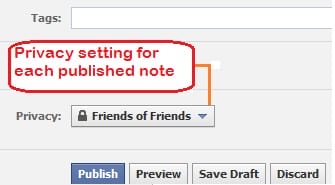 And you can no longer drag and drop the tabs to rearrange their orders like you used to in old profile.
Where are the rest of the tabs?
Links tab:

Direct access: http://www.facebook.com/posted.php

Here you can find links posted by your friends and yourself, including link subscription management.

Where is it:

Home -> Application listing (sidebar) -> look for 'Links' (or click 'More' to expand the list). The default view will be the links posted by your friends. To reach your own links: :

http://www.facebook.com/posted.php?id=YOUR_PROFILE_ID
Photos and Videos tab:

Edgardo brought up a good question on the fan page the other day. We used to have photos and videos tabs separately. But now, facebook had merged them both in the 'photos' tab. You can access the latest photos/videos by you and your friends.

Direct access: http://www.facebook.com/?sk=media#

Where is it:

Home -> Application listing (sidebar) -> look for 'Photos' (or click 'More' to expand the list)
#4 Application tabs listing – More about personal app management
In new profile, facebook application tabs are more about personal usage ever since facebook eliminated them from public view. You can now access all added applications through Home -> Application listing -> click 'See all'. You can declutter your list by hiding the unwanted application with 'x'.
You can undo this anytime with 'See Hidden' -> select the application and add it back to the sidebar navigation links.
#5 Location for friends and page requests
We used to be able to access all requests sent to us from the top bar. Now that is reserved for friend requests only. And recently, a lot of people are complaining about the missing page suggestions sent to them by friends after receiving facebook email notifications. If you're one of them, try look them up: News Feed -> Request (right column sidebar):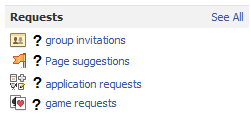 If not, you can access them all here with this direct link.
#6 Feature meaningful friendship or facebook lists / groups
A smart implementation similar to Twitter lists except it does not have the 'follow list' feature. I have yet gone into making public lists but my friend, Cindy King did a fantastic job with her Social Media Examiner Writers' list on her new profile. If you want to create the lists or upload an existing one (even facebook groups!) to your sidebar, try this link or from your Info tab -> Feature People -> Create new list or Add an existing list or group.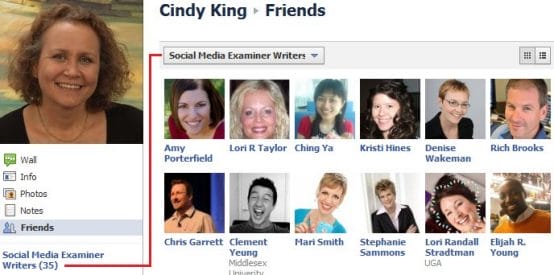 As usual, you can customize the privacy setting for your friend list:
Go to Account -> Privacy Settings -> Connecting on Facebook -> View Settings -> See your friend list:
Let's say you're not into list-making, then the random friends displayed at your sidebar are those whom you most interacted with via wall posts, comments and other non-private interactions (excluding private messaging and chats).
#7 Account Protection via Secondary email or mobile number
There is a new reminder option to strengthen your account security. You will be asked to add a secondary email address and confirm a mobile number for your highest account security level.
Be sure to add a valid email address that has never been used by other accounts and make sure the loading is completed before you navigate away from the security setup. Otherwise your email address will be lost in limbo and no way to reclaim it for your account.
One thing I learned from facebook is to ALWAYS check your privacy settings whenever there's a new change or upgrade. Although facebook said no alteration will be done on them but what if there is a new check box added without your knowledge? For instance, I wouldn't have noticed the security email I added would be given a new privacy option if I hadn't check. Hence, make sure you customize its visibility if need to:
Updated: #BONUS: Facebook Lists & Status Updates Relocated; Re-emerge of 'Pages' option; Facebook page's Questions tab
There is a lot you can get from the above image. First of all, in new profile the locations for 'Facebook Lists' and 'Status Updates' are relocated. You can no longer see them at the sidebar but inside the drop down box of 'Home -> Most Recent'. What surprised me the most is the 'Pages' option – at first I thought it's back! But then, it's different than the one we had in 'Account -> Edit Friends' before where you can see your entire 'liked' pages in alphabetical order. This is strictly for displaying your liked-pages' status updates only. It's still a 'friendly' effort from facebook for trying, but it does make users slightly confused with the 'same' name used.
I wish there is more I can say about the 'Questions' tab for new facebook pages. Till this day, I am still blocked from accessing Facebook Questions and there is no way for me to verify that. Even so, if you have a better luck than me, try to access your page's questions tab via the link (insert your page username at the assigned area): http://www.facebook.com/YOUR_PAGE_USERNAME?v=questions . Let me know what you get?
Updated (01/03/2011): Security Browsing
Recently a security option is added. You can secure your facebook browsing with 'https' by ticking the box for 'Security Browsing'. Also, make sure you are subscribed to email notification for each new device login to your facebook account:
I wouldn't be surprised if more changes are on the way, our job is to be ready. And frankly, I do miss the old wall options where I get to inter-select whom posts to view and some handy settings without going through the privacy settings:
But life goes on, so does facebook.
Now Is Your Turn…
Do you have anything else to add apart from the seven changes given? What do you think of your new profile thus far? Share your comments below.
Like what you're reading ? Subscribe via RSS Feed or email so you won't miss a thing:


.