7 Killer Facebook Applications to Create Impressive Custom Tabs
Have you ever felt troubled when trying to add a stunning custom tab to your page but don't know how? Since last year, I had found several that works great in providing sub-tabs and some with fan gate options. Today, it's all about templates and widgets! Wouldn't it be great if you can add one of these facebook applications together with some from 23+ Facebook Page applications to improve fans engagement? After all, it's all about trial and error. Let's head right to the facebook apps:
7 Killer Tab Customizers for Facebook Pages
Requirement of Coding Knowledge: No
Fans-Gating Content Settings: Available
I love GroSocial for the fact that it makes Facebook customization a breeze with its drag and drop interface, along with slick, sophisticated templates and widgets for all packages. It is super easy to use with clear indication of which apps are free and required payment. Best of all you can try all widgets and only pay if you decided to publish them. You can tweak the tab and element settings and preview them in your WYSIWYG (what you see is what you get) editor. For free account you only get to publish one tab for one page but you may create as many tabs and publish the one you are most satisfied with. Here's a custom tab created using Grosocial for my Page, imagine a lot more you can do with yours! GroSocial auto saves your work too, very neat.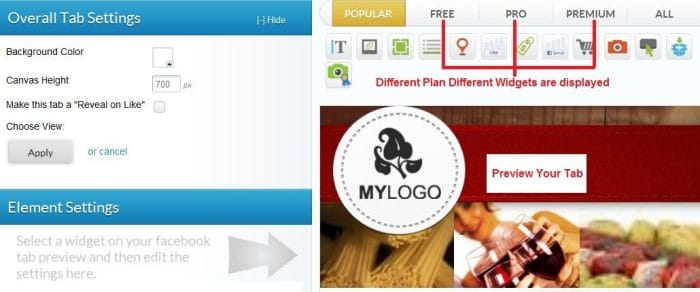 Requirement of Coding Knowledge: No (except email/button embed)
Fans-Gating Content Settings: Available
Lujure provides templates (limited layout for free plan) and 35 social suites you can choose to add to your tab. There are no ready images in the templates so you need to prepare your own according to the given image size per template. Adjust your page height and background color/image however you wish. Double click at each element to customize its content. Some may require coding knowledge such as embedding your email opt-in form and paypal button. Free plan allows you to install one tab to one managed page.
Requirement of Coding Knowledge: No
Fans-Gating Content Settings: For Paid Accounts Only
Like other page tab customizers, Social Page Builder offers free plan that allows you to install one tab to one page. Their templates are quite stylish and more towards retailing purposes. Its editing interface has both design and HTML mode. In order to edit an image on its multi-layer customization, double click it and you will be able to adjust color saturation, brightness or add shapes/text box. You can set hyperlink and alt text for the image as well. Social Page Builder is the only service I came across with spell check ability.
Requirement of Coding Knowledge: No
Fans-Gating Content Settings: For Paid Accounts Only
FaceItPages is another DIY page tab customizer that offers quite a number of templates and modules for your page. Free account holders will have access to header banner, content block, photo gallery/slideshow and contact module but not the RSS feed (for blog and twitter account). You can add and preview the feed content but in order to get them published on your Page you need to upgrade to paid packages.
Extra info: FaceItPages also has an option to manage/create your timeline cover.
Requirement of Coding Knowledge: No
Fans-Gating Content Settings: Available
Thrusocial is a great app to design your custom tab with drag and drop application widgets. Unlike most customizers, Thrusocial includes twitter and blog feed in their Free plan (hurray!). The greyed-out widgets are only accessible in paid packages.  Thrusocial provides basic template layout for you to work on and you can manage uploaded images in 'Gallery' option. Unsure if it's just me but I can't get 'Facebook Sharing' button to work on my Page after configured. I was excited to have found a scheduling feature in Thrusocial but couldn't get that to function either – the message is forever 'sending' and never published. But since both features are not essential to me so overall, I'm still quite satisfied with Thrusocial.
Requirement of Coding Knowledge: No
Fans-Gating Content Settings: Available
Or known as Damntheradio, FanBridge Fan Page Creator enables you to create dynamic Facebook tab that features audio, video, tour dates, contests and more. Damntheradio is widely used by musicians like Linkin Park and Enrique Iglesias. What I love is that it provides Like-gating feature on single module to attract more Likes on Page. If you include comments in your template, you can only edit or delete a comment from their main site but not within your page. You can download the comments in .CSV format whereas email addresses for the 'Signup Form' module can only be downloaded for paid accounts.
Requirement of Coding Knowledge: No
Fans-Gating Content Settings: Available
If your Facebook Page is relatively new and you don't have enough budgets to create multiple custom tabs like in the above plans, you just might love ShortStack! Differ from most Customizers, ShortStack has no page limitations and you can install up to 12 quick-publish tabs per page. You will have access to sweepstakes, fan gating tabs and other widgets except those required contest database, such as photo submissions for voting etc. Apart from its well designed template layouts, you can rearrange and set so certain widgets are exclusively for fans-view only. For those who have CSS knowledge you can enhance your tab further.  The only catch for this free account is that your fan count should not be more than 2,000. Otherwise you must upgrade to paid packages.
Update: Don't forget to check out 10 Tips to Power Up Your Facebook Page with ShortStack Custom Apps too!
Feeling overwhelmed yet? Don't be. The more you know what apps are available and what they are capable of, the more you'll consider what can you offer to your audience. Remember, the purpose of this post is not to ask you to install EVERYTHING but to acknowledge you some of the choices available. Even free plan doesn't sound so bad as long you don't mind their ad placements (header or footer) on your Page. Carefully plan out your strategies, after all, 2012 had only just begun. Be glad that even none coders can find joy in setting up an impressive custom tab without feeling burdened.
Now Is Your Turn…
What is your favorite facebook application to create custom tabs? Have you come across better app suggestions? I'd love to hear them out in your comment.
Like what you're reading ? Subscribe via RSS Feed or email so you won't miss a thing: