15 Twitter Tools to Boost Your Online Presence and Productivity
UPDATED: More suggestions at 21 Amazing Twitter Tools for Brand Visibility and Time Management.
Twitter is a valuable source of news updates. Without proper management, it can be a real time suck! There's only so much time in a day, you need to make each tweet, each following count for something. Why not utilize some free Twitter tools to lighten your load so you can focus more on building relationship with your tweeps?
Twitter News Aggregators:
These apps summarize the most relevant and popular updates from your Twitter stream with very simple setup procedures. Best of all, you can subscribe to your friends' to find out what is hot in their Twitter network too.
Tweeted Times creates real-time personalized newspaper from your Twitter stream and arranges them by popularity based on total mentions from your Twitter friends and theirs. You can then subscribe to the newspaper via RSS reader or promote it to your network.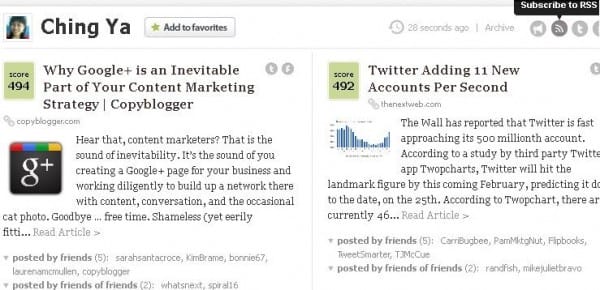 Special Tip:
Customize your newspaper digests from public Twitter lists or search results. A great way to filter your stream if you are following a wide range of Twitter users.
#2 
Summify
I was going to skip Summify because it had stopped receiving new registrations after acquired by Twitter. However, I can't deny the fact that it helped tremendously in gathering social news feeds from various social networks: Twitter, Facebook and Google+, presenting them in one-page summary so one can catch up on daily news updates via web or mobile. Normally it takes 1-2 hours to collect the stories.
Special Tip:
Summify is visually appealing comparing to Tweeted Times and both give me slightly different results in their daily news updates. I love how I can easily share individual story without having to leave Summify.
Paper.li offers more configurations when collecting trending news: optional to add photos, videos and to order the news by priority via drag and drop. You can add anything you read from the web to your paper and share it with your Twitter network. Being a publisher is all about providing content, which makes it all the more important to follow the right people in gaining valuable resources that interest you.
Declutter Your Twitter Stream:
#4 
Slipstream
Slipstream works perfectly in Twitter web to eliminate irrelevant tweets without having to block or unfollow anyone. You can hide tweets containing a specific keyword, tag, either from a user or everyone in your Timeline, @replies or twitter lists.

Special Tip:
A huge time-saver if you don't wish to get caught up by a trendy topic or hashtags you're not interested in. My only problem with Slipstream is that it only supports limited browsers at the mean time: Chrome and Safari. We need more browser choices.
#5 
StrawberryJam
StrawberryJam pulls in popular links shared by your friends and gives a clear overview of what's trending in your Twitter network. You get to see the results ranging from last 8, 16 and 24 hours. Did I mention you can even see real time results too? Turn on the Preview and you can read the post excerpts, giving you some idea what is the story about.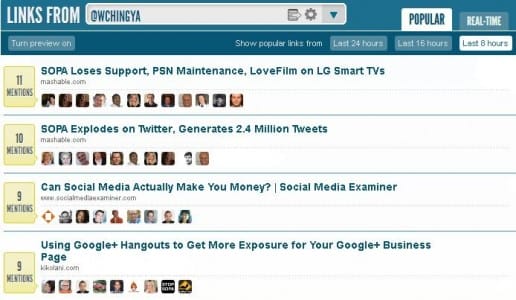 Special Tip:
Enter specific keyword, tag or twitter list to find out most shared links in the mentioned category. Great app if you're looking for popular links to share.
Twitter Following/Followers Management:
#6 
ManageFlitter
It has been awhile since I cleaned up my Twitter account. Thanks to ManageFlitter, I was able to clear a few inactive accounts while discovering contacts I should communicate more. It allows Google+ integration so your public posts can be imported to your Twitter stream after configured.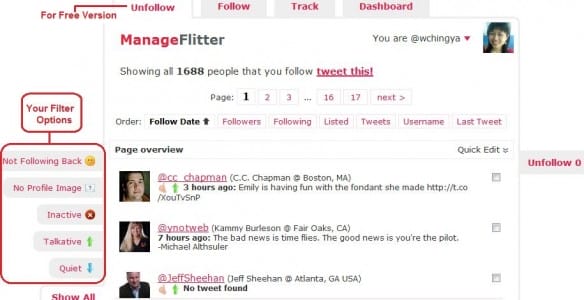 #7 
FollowFriday Helper
I was able to jump on the FollowFriday bandwagon easily thanks to FollowFriday Helper which displays a filtered list of those we interacted most recently. You can choose to write personalized or multi-user recommendation tweets from within the app.
Special Tip:
Various hashtag suggestions are given other than #FF. Add multi-user recommendations by clicking at their Twitter username; navigating from one page to another won't affect your pending recommendations in the text box. Thoughtful.
I was meant to add Formulists and Conversationalist in this category but unfortunately their sites are shutting down soon. Still yet to find a Twitter app that supports smart lists updating. .
Twitter Account Management:
#8 
Tweetbackup
Tweetbackup allows you to run daily backup of your twitter posts which you can then export to be downloaded. Tweetbackup is the subsidiary of Backupify, a well known backup app for social media accounts.
Special Tip:
Although it says to backup people you followed but neither can I locate the backup file nor the setting for that purpose.
Brand Monitoring on Twitter:
#9 
Topsy
Tracking your brand mentions on Twitter can be done easily with Topsy. Get real time search results over the social web from the past 1 hour to 30 days, sort them by date or relevance. Use advanced search to filter your results if need to.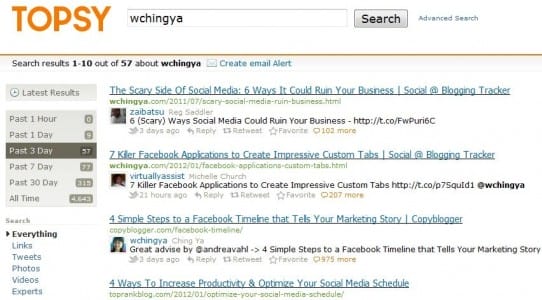 Special Tip:
Topsy adds Google+ in their real time results too. A good method to track who shared or mentioned your brand on Google Plus.
#10 
Twubs
Twubs makes hashtags useful as it enables tracking for certain conversations, information, shared movements and memes. With Twubs, you're able to view latest tweets of your preferred topics.
Special Tip:
There is no official claiming of hashtags so anyone can edit the hashtag descriptions. This could be a risk if someone deliberately sabotages a brand by altering their hashtag content. Therefore, commitment is required to monitor twitter chats and events closely.
Smart Scheduling of Tweets:
Tweet-scheduling can be a hassle. Often times I wonder do those scheduled tweets earned a spot in followers' streams or simply dropped off their radar? Here are the solutions to the problem:
#11  Timely
– Update: Not Available Anymore
Timely analyzes your past tweets and schedules them at suggested time slots for your optimum exposures. The timing will adjust itself after you added more tweets. Later, find out how your tweets performed in stats (number of clicks, reach and reactions). You can also skip or limit weekend posting as well.
Special Tip:
You can reply to those who mentioned you within the Timely app. Add a bookmarklet to your browser for quick and effective scheduling. No edit can be done on suggested time slots except deleting them.

Buffer is often compared to Timely but if you want to have control over your scheduling time then Buffer is your go-to app. Set your time slots and add up to 10 tweets for one Twitter account (Free version). Personally, I love how Buffer is integrated with other awesome apps like StrawberryJam and SocialBro. As a bookmarklet or browser add-on, you can add content easily to buffer!
Special Tip:
Buffer button is also available for websites to encourage readers to buffer your content. Adjust your time slots not only in hours but on different days by 'Change days' option. Ability to post less on certain days is available for paid accounts.
Recommended Read: 6 Points To Ponder Before Using Automatic Status Updates
Innovative Use of Twitter Stream:
#13 
TweetWally
TweetWally is great for both personal and brand promoting purposes. I'm a Facebook addict so thanks for TweetWally's embedding feature, I can gather all my Facebook-related tweets and share it with my blog readers. You can claim a vanity URL for your account and customize its appearance to fit your brand.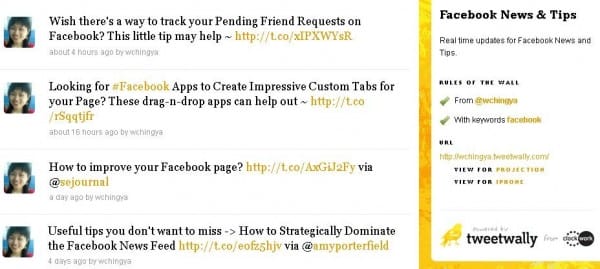 Special Tip:
No edit can be done on displayed tweets. Require constant monitoring so no irrelevant tweets are included.
Twitter Analytics:
#14 
Twitsprout
After hearing so many good things about Twitsprout I decided to give it a go. It takes about 7 days to collect data for a new account but it's worth the wait. Twitsprout transforms your historical data into a beautiful infographic, showcasing the stats for your new followers hourly, number of people retweeting you and number of mentions received.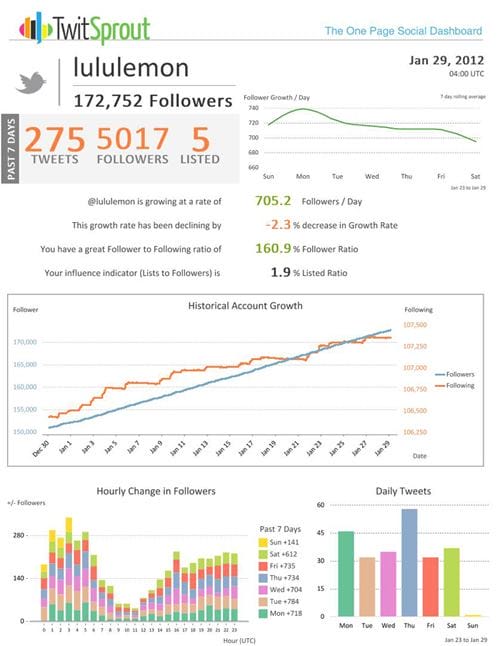 Special Tip:
TwitSprout works best in Chrome; upgraded Firefox and Safari browsers (both version 4 and up).
#15 
SocialBro
SocialBro is a Twitter community management tool but I must highlight its real-time analytical feature: you can find out who are the most active users in your stream in the last 5 minutes (twitter timeline, public Twitter lists or any search terms). Although free version only provides monitoring up to 100 active users every 10 seconds but that's good enough for me.
SocialBro's very own Insights is equally impressive where you get to track languages, timezones etc for your followers/following. You can export then save your data in PDF.
Special Tip:
Always synchronize your account to get the most updated results. SocialBro can do a lot more than analytics alone, including managing following/followers, discovering best time to tweet (integrated with Buffer) and so much more.
Don't just take my words for it, try them out. Not all Twitter apps are suitable for everyone. Find out what is your biggest Twitter challenge and incorporate some of these tools to boost your online presence and productivity. You'll be surprised how well these apps could work!
Now Is Your Turn
Are you currently using any of these Twitter tools? Do you have more apps to add to this list? Feel free to share in your comment.