12 Latest Facebook Page Features You Might Have Missed
Keeping up with Facebook changes is no easy task. Minor changes may slip in unnoticed but some just totally caught you off guard! Why not go through these 12 most recent Facebook page updates and see if the new features can contribute to your daily Facebook management and marketing strategies.
12 Facebook Page Features You Might Have Missed!
#1  Onsite Notification
Onsite notification is perfect for page admin who doesn't mind mixing business page management with personal profile. Once the box is ticked, you will get instant page notifications in your profile's homepage for new posts, fan messages, comments or whenever someone liked your page posts. To manage the setting, go to your Admin Panel -> Edit Page -> Manage Notifications -> Onsite Notification.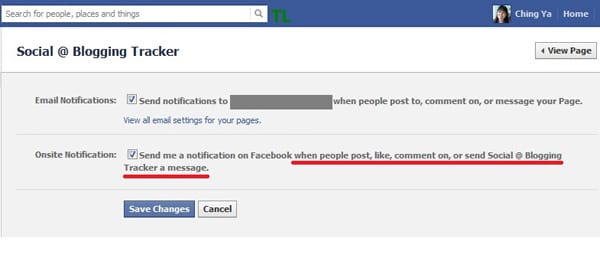 Note: You need to tweak this setting separately for the pages you're managing. Great idea for admins who like to respond to fans ASAP.
#2  New Insights Metrics for 'Fans'
Track your page posts' performances based on your fans' reactions besides overall users. The added metrics for 'people who liked your page' includes:
Lifetime Post Impressions
Lifetime Post Reach
Lifetime Post Paid Impressions
Lifetime Post Paid Reach
Lifetime People who have engaged with your post
Lifetime Post Stories
Lifetime People Talking About your post
To access these data, go to your page Insights -> Export Data -> (select data type) Post Level data -> Select your data range -> Download. In the downloaded file look for these metrics next to 'Lifetime Negative feedback from users'. I was able to retrieve fans' stats dated back to the end of April, 2012. Pretty cool!
Note: Monitor your page activities based on numbers that matter – people who endorsed your brand, then improve your posting strategies accordingly.
#3  Rearrange and View Sorted Insights Metrics
You can arrange your best performed posts based on different metrics by clicking above the table: Reach, Engaged Users, Talking About This and Virality. Click 'Date' to arrange your posts back in chronological order. To view the individual story on your page, click at the post link then 'View Post'.
Note: A post's 'Reach' will only be counted if a user scrolls and loads that page update in his/her news feed. Also, 'Reach' has now started to include Mobile data as well.
#4  Facebook Page Subscribers
When users add your page to their interest list without liking it, they are your 'page subscribers'.
To check who are your page subscribers: go to New Likes -> See All -> select 'Subscribers' in the drop down menu. Total number of subscribers can be found in your page's Insights' Overview.
Note: Some people worried this might affect their page 'Likes', but why not see this a new opportunity to convert subscribers (who never thought of liking your page in the first place but remained interested) into loyal fans?
Since you're here, I would love to invite you for a visit at my page. Do come in and say hi:
#5  To Switch Between Page/Profile Identity via the 'Voice'
The 'Voice' is a shortcut (or replacement) for 'Posting Preference' on pages. Page admin can switch so to comment as a page or as his/her personal profile instead.
Note: The 'Voice' function only works WITHIN the page itself. If you plan to network as your page identity OUTSIDE the managed page, make sure to select 'Use Facebook as Your Page' as shown in the drop-down:
#6  Laser-Focus Your Update with Target Page Posts
Pages can now target post updates based on fans' Gender, Relationship status, Educational status, Interested-in and Age (including language/location). Personally I haven't tested it but I wonder if this will bring better ROI if been used with Promoted Post? What do you think?
Note: This feature is currently found on Pages with >5k fan count. The post-targeting feature will only affect fans in the News Feed. All fans will still be seeing the targeted-update when they visit your actual timeline page.
#7  Facebook Offers Now Available to All Pages
For pages with more than 400 fans, you can now create an offer for your fans to claim: In Store offer, online offer or both. Unfortunately this feature isn't free (except for the first offer) and has to run alongside with a Facebook Ad. You can plan your budget by deciding how many people you want to reach with the offer.
#8  Facebook Custom Audience
Brand pages can now target their offline audiences on Facebook through relevant ads by uploading info such as email addresses, phone numbers or Facebook user IDs. This is a powerful feature for ad-targeting, opens up a whole new alternative for your collected emails/contact lists.
Note: Be aware of the info you're giving out as a customer and receiving as a marketer. Although this is a game changer for Facebook ad-targeting, you are completely responsible for the content you're trying to push and who you are targeting. If you are to use this feature, make sure it's done correctly.
#9  The New Photo Tab Layout
Here are a few things about the new photo tab layout on pages:
tagged photos of your page are found in the first sub-tab.
when mouse-over a single photo, you can view the 'Like' and 'Comment' count.
when mouse-over a photo album, the photo thumbnails alternate before your eyes.
you can highlight a photo to enlarge it.
#10  Facebook Collections Feature
This is the one to watch especially if you're in retailing business. Although still in a testing phase with selected brand pages but obviously Facebook is embracing ecommerce by allowing retailers to post a collection of product photos into fans' news feed using 'Want' or 'Collect' buttons. Users can save the products to their 'wishlist' or purchase them on the retailer's website.
Image from Allfacebook.
Note: You can view the live-examples by visiting Pottery Barn Facebook page with their 'Luxe Lodge' post. Since I'm not based in US, this collection photos are not visible to me. Hope you have better luck in this.
#11  Facebook Page Username Can Be Changed ONCE
Have a mistype in your page's username? No more bug forms. Just change it here but limited to one-time edit only.
Some page features come and go. Just a reminder here,
#12  To Report Duplicate or Miscategorized Page
There used to be a 'Report Duplicates' in your Edit Page settings but now it's no more. But you can still do it by clicking at the 'wheel' icon next to 'Like' on the page you wish to report -> 'Report Page' -> select 'Duplicate or Miscategorized Page'.
Now Is Your Turn…
Are you making use of all the above features so far? Did I miss out any important changes? Love to hear from you in the comment.