10 Tips to Power Up Your Facebook Page with ShortStack Custom Apps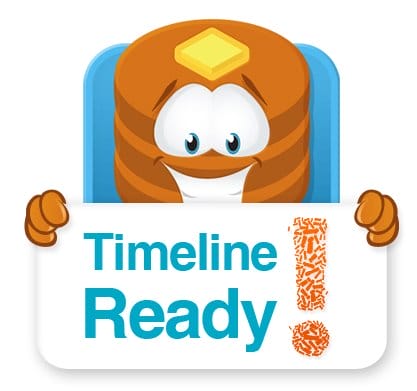 I first heard about ShortStack (aff.) when researching for 7 Killer Facebook Applications to Create Impressive Custom Tabs for pages. As much I was impressed by their free plan, I could only test their custom apps on a dummy page due to the 2k fan count limit (free account). Until last week, I finally had the chance to access the Full Stack plan and see how the apps work on my main page. I was completely blown away with what ShortStack can do! I'll tell you why.
Disclaimer: This review is based on my personal experience with ShortStack. I wouldn't recommend an app I won't use.
Great Tool for New Pages
I mentioned earlier that ShortStack had me at their Free plan. Why? As long your total fan count is less than 2k, you can:
install up to 12 quick-publish tabs for an unlimited number of pages,
use almost all their widgets (except those that required contest database),
modify and edit their templates to suit own branding preference.
These are more than enough to start a new page that looks professional with the given templates and widgets. If subscribed to paid plans, you will then, be able to setup contests, white-label your app and get analytical data for your custom apps – I'll get there a bit later. But first,
A Variety of Templates to Choose From
ShortStack offers 64 templates for both coders and non-coders to work on. Programmers can enhance the chosen template with 'CSS editor'. Didn't find anything you like? Start with a blank template and add widgets to it. You can save it as a custom template to be used again later. Other key features for a Template:
Configure Non-Fans/Fans-Only content,
Select Theme color,
Set tab simulated date (and time),
Set simulated country.
Powerful Widget Options to Enhance Your Custom App
30 widgets are more than enough for me, but what really impressed me are the powerful widget options:
i)  Ease to Drag and Drop, Rearrange
Modify your widget arrangements and view the end result using live preview inside ShortStack.
ii) Advanced Visibility Options
Besides Non-Fans and Fans-Only content, you can add special 'Note' which is only visible to co-admins while working on the tab. You can also 'inactivate' a particular widget to hide it temporarily from you page until changes have been made to it.

Tips: 'Starts Hidden' is one of my favorites – to hide a particular content until someone clicks to reveal it. See the live action here.
iii)  Customize Your Contact Forms
You can customize and save your contact/contest form before adding it to your app. This is great to synchronize forms to be used in multiple pages or for recurring events.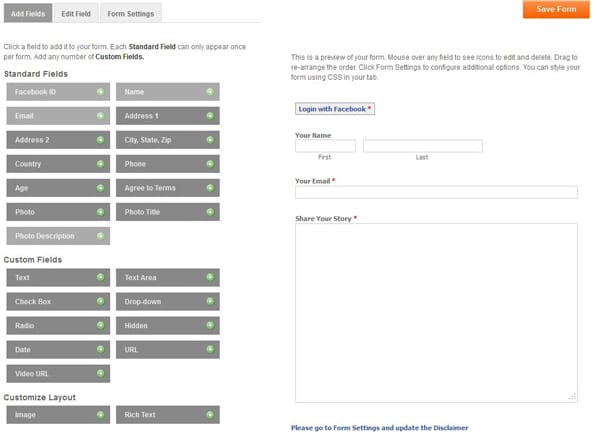 iv)  Simulated Time and Country
This feature lets you decide when and to whom your widget is visible to. Filtering option is available for country visibility restrictions as well.
Now, let's see what other ways you can enhance your existing page using ShortStack:
How to Supercharge Your Page with Custom Apps?
There are more than a few things you can do with Shortstack custom apps:
#1  To Greet Visitors with 'Reasons to Join the Page'
Your visitors have limited time span to navigate around your Page, be sure they get that important message why it's worthy to 'Like' your Page. Setup a welcome tab for that and for more visibility, Pin the info on your Timeline.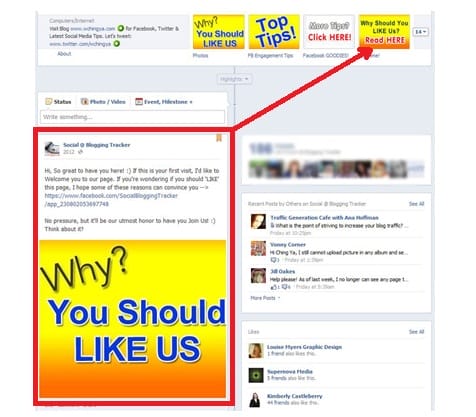 #2  To Showcase Your Portfolio or Products via Gallery Widget
Let your visitors get a feel of your creative vibe by showcasing them some of your magnificent work/product. Nothing can say it better than images, especially when the photos are neatly presented. Here's an example I made out of the inspirational quotes I shared on my Page.
#3  To Integrate Social Media Profiles for Maximum Visibility
You can include other social media profiles in your app design wherever you think necessary. A sneak peak of your social channels (Twitter, Flickr, YouTube, Vimeo, Pinterest, Blog feed) may win you new followers too.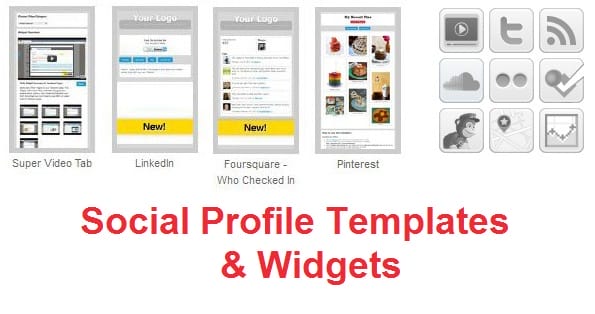 #4  To Manage Multiple Pages with Team Collaboration Feature
Let's say you're managing multiple Pages at a time, you can invite client or colleague to co-manage the custom apps selectively without them accessing your full account. The 'edit' mode is enough to allow him/her to customize the app of your choice.
Tip: Whoever you invited to co-manage an app with you will need to setup a ShortStack account too. You can also transfer the fan count limit to their account by granting them the 'admin' status and having the 'Assume Ownership' activated on their end.
#5  To View/Promote Your Custom App Using Smart URL
You probably already aware that Facebook does not support custom app-viewing on mobile devices. For this, ShortStack has a workaround using Smart URL:
When clicked, ShortStack can detect whether the fan is accessing the app from a mobile device or computer. Then the app content will be adjusted to display properly to them. A full coverage of this mobile friendly feature can be found here (including uploading Facebook photo for contests and customizing sub domain for the app)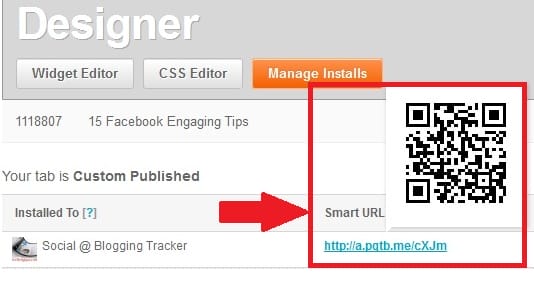 This feature is available for free account users as well. Unless if you want to brand your smart URL then full stack/higher paid plan is required.
#6  To White-Label your Custom App for Branding Purposes
This is one of the benefits to custom-publish your app (instead of quick publish). Not only you can publish same custom app to multiple Pages but also to brand your app when it is shared by your fans to their friends' news feed.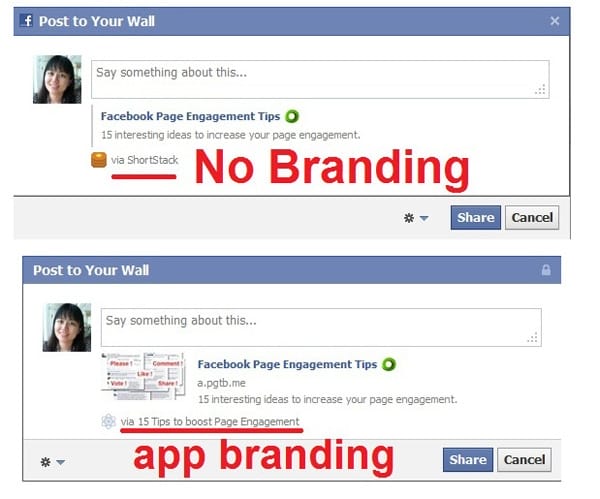 This is how the story appears on Timeline (and news feed) when 'Shared':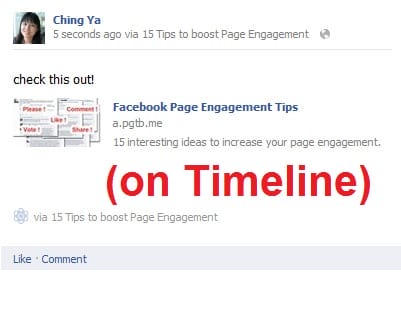 #7  To Diversify Your Content with Media Files
Besides audio files, you can upload images, Flash and PDF files to ShortStack to be used for your app design.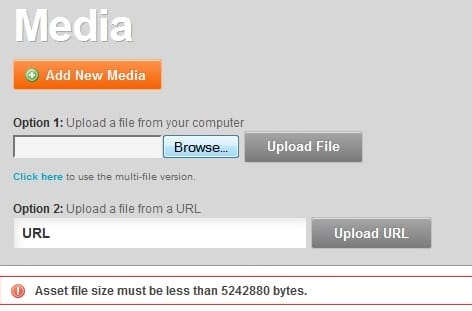 #8  To Include Facebook Social Plugins in Custom Apps
The easiest way to encourage sharing among Facebook users is by adding Facebook plugins: 'Invite', 'Share', 'Comment' (but don't squeeze them all in one place. The pic below is just to show you how they displayed within the app).
#9  To Create Buzz for Your Brand via Sweepstakes, Contests
There's nothing more exciting when a virtual event is held for fans to participate! ShortStack makes it easy to setup a contest or sweepstake on Pages. Paid plan users can export contest entries too, thanks to contest database.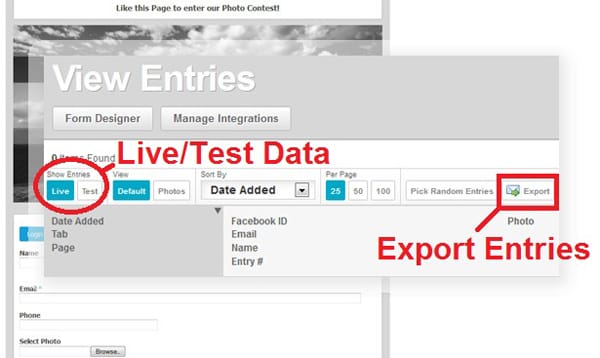 Tip: If you like to test your app before it goes live, make sure the 'Live' Data Mode is adjusted so your test entry won't get counted.
** News Flash: I have something special in-store for YOU, so make sure you read till the end of this post to find out what is it!**
#10  To Analyze and Fine-tune Your Effort with Tab Analytics
In the end, it's all about performance and click through rates. Monitor your app through tab analytics and fine-tune your social media efforts for maximum results.
Bottom line, once you got that creative juice flowing you'll be amazed how much you can achieve through ShortStack custom apps for your Timeline pages.
A Few Suggestions for ShortStack
Personally, I have a few requests for ShortStack's future development:
Add Google+ Widget
Allow Linkedin Profile to be imported into the LinkedIn Template
Add more mailing services besides MailChimp
**EXCLUSIVE**
for Social @ Blogging Tracker Fans!
As a reward to your loyal support, Social @ Blogging Tracker is holding a ShortStack Giveaway worth $900 and a few goodies too! Head over to my page and look for 'Giveaway' app to learn how you can win the prizes, don't miss it!
UPDATED 05/07/2012: The Giveaway has ended. Winners will be contacted via email in a few days time.
Now Is Your Turn
Have you tried ShortStack yet? If not, will you consider using it to enhance your Facebook Page? Feel free to share your thoughts in the comment.
Note: the ShortStack affiliate links were added after the Giveaway period.
Like what you're reading ? Subscribe via RSS Feed or email so you won't miss a thing: