How to Add Pages You Like in Your (Updated) Facebook News Feed?
[UPDATED 14/03/2012 for adding Pages to Interest Lists within the post]
Recently a lot of Facebook users are asking the same question:
"I can no longer view page updates in my newsfeed. How do I add pages I like into my Newsfeed? "
Technically, the page updates are still there in your news feed, just not as easily spotted comparing to before. We all know Facebook has their very own algorithm in deciding which updates to appear in our news feed based on our recent activities and how popular is the post/page according to our interests. Even so, we still might miss out a whole lot more information from the pages we love even Facebook thinks they had it all sorted out for us.
5 Simple Steps to Organize Your Pages News Feed in Facebook
Facebook agrees that 'Lists' is the optional way to organize what you wish to see in your news feed. Therefore, why not utilize it now to monitor on pages you really care about? Here is how you can make that happen.
1. In your 'Home' section, refer to your sidebar and locate 'Lists' -> 'More'. Or, go to your custom lists here.
2.  At the upper section of 'Lists', look for 'Create a List' button to bring up a pop-up menu. Name your list and click 'Create List'.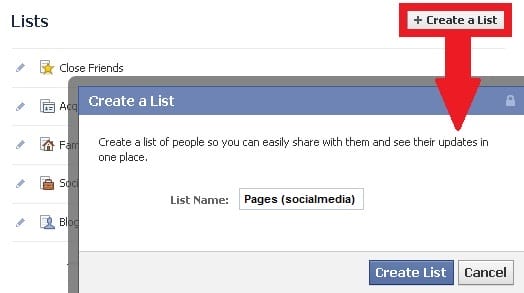 3.  Now you can start adding Pages (instead of 'Friends') to your list: look for 'Manage List' at your upper right corner. In the dropdown menu, select 'Add/Remove Friends'.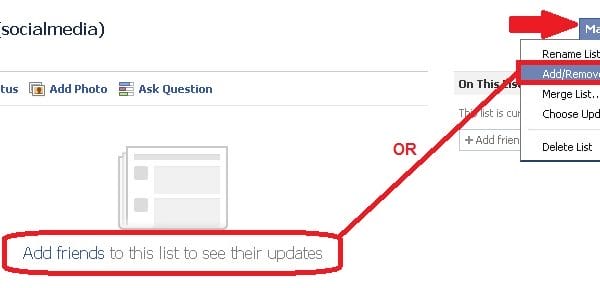 4.  Another pop up box will appear and at its upper left corner, select 'Pages' in the dropdown menu –  all pages you liked are displayed in alphabetical order. Start selecting the pages to be included in your list.
Tips: It is overwhelming to go through the entire list if you have over thousands of pages. Therefore, use (partial or full) keywords to find the pages you might be interested. When you're satisfied with your choices, click 'Done'.
5.  Now you can manage your list by deciding the type of updates you wish to see in your Page news feed.
Voila! Here is your very own customized News Feed for Pages: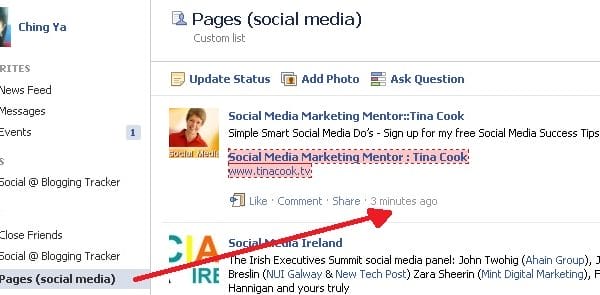 [UPDATED 14/03/2012]
Facebook launched the new Interests Lists and no longer let users add Pages to their private facebook lists (now known as 'Friends lists'). Therefore, after liking a Page, you should create a new Interest List for it (or add it to your existing Interest List) as shown in the screenshot below:
Then go to this link to access all your created Interest Lists and Subscriptions.
[END of UPDATE]
Extra Tips 1: Create several lists instead of One-List-For-All
[UPDATED 14/03/2012 'merge lists' option is no longer available]
I would recommend you to create several lists for Pages You Like instead of just one that covers ALL. It would be difficult to see ALL page updates even in real time mode. Besides, you can merge the lists into one whenever you feel like it. However, the process is irreversible and the chosen list will be deleted after the merge.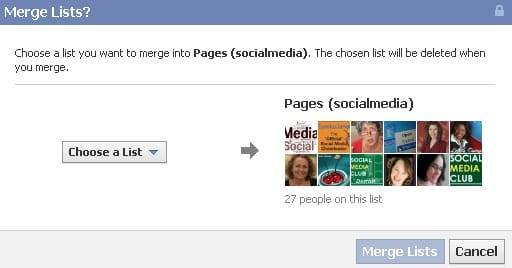 Don't worry if you do not have all the pages you want in one-go. Customize your list as time progresses, follow up on your current news feed to locate the missed-out pages and add them to your list anytime.
Extra Tips 2: Add your Facebook Page Lists to Your Favorites
All those important lists should go to a more visible area, say, your 'Favorites'? Click at the pencil icon next to your Page list -> Add to Favorites: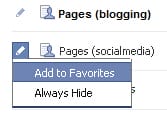 Add as many lists as you prefer. When you're done, you can rearrange them according to your preference (drag and drop):
Time Consuming if over Hundreds of Pages?
This is the pitfall of ALL list-making, but even if you have 5000 friends, I believe you would go through the entire list just to make sure your status update is going to the right group of people, right? This could be a great opportunity to better-arrange the pages you like instead of getting them all piled up for nothing. While a better alternative is on the way, this is the least we can do to organize the information we NEED, not depending solely on Facebook algorithm.
Now Is Your Turn…
Do you like the new changes to our Facebook news feed (excluding Top Stories and Most Recent options)? Would you prefer to have a better control over what information to read on? Do you have a better method in following up on the Pages you like? Kindly share your thoughts in the comment.