How To Track Your Retweets In Twitter (Pt.1)
We'
ve
seen some of the coolest trend-trackers based on the
retweets
received in certain time-range. What if you wish to
track your

retweets

in Twitter
that aren't famous enough to make it to the all-time-favourites? First of all,
What Are the Benefits Of Tracking

Retweets

:
a. Meet like-minded people
Either retweet out of kindness or simply loving the content, this guy/lady might be somebody worth following, befriends with. We could show our appreciation by giving thanks, repaying kindness, following each others' tweets… usually that's how the networking begins.

b. How popular/unique is our tweet
how far it could go via retweet — the clicks, stats and the performance. Is the title catchy enough? Shall we do a sequel for the post? How is our twithority? Time to evaluate your twitter experience.

How To Track Retweets ?
You could try ReTweet Rank that shows both of your current ranking along with retweet history, but only limited to the keywords 'RT' & 'your username'. What if people retweet using the word 'via'? Untraceable.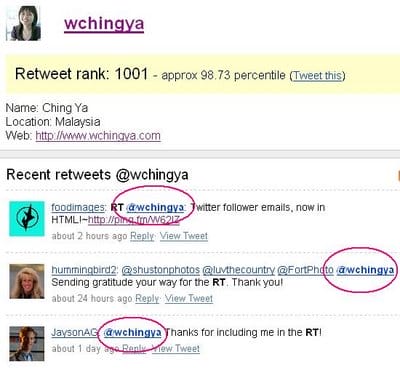 Some people may or may not address our username when they retweet. Great tools are on the queue to track them all:
1. Backtweets – Link search engine that leads you to people who retweet
Enables URL-tracking for a particular link. Neither registration nor Login required. However, to get the most out of Backtweets, you need to:
"Make sure to paste in the complete URL for your link. This is to enable tracking for various shortened-URL, such as tinyurl, is.gd, bit.ly etc that originated from the link", as shown below: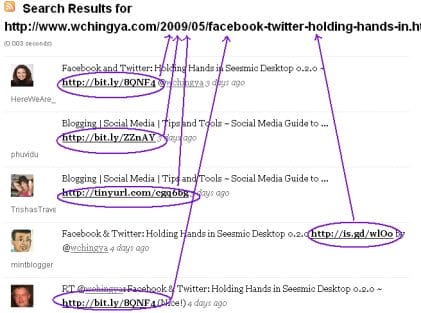 Ok, now you may want to know…
"WHAT IF I Search By…"

Q1: My own blog URL? say, 'https://wchingya.com',

Results:
Random results will be flooding in, not only for the recent one, but including previous tweets or whenever your blog URL is mentioned.

Q2: My very own shortened URL. For Instance, 'How To Personalize your Twitter Background' was using ~ http://tr.im/iYvr

Results: 'There are no tweet results'. I know, I'm just as surprised.

Q3: How about 'post title'?

Results: Nothing.

Q4: Apparently, it only works for complete URL-tracking then?

Results:
Not quite, here's why:

Let's say I wish to trace 1 previous post of mine : The Reveal: Killer Apps for A Successful Twitter Network (pt2). I'm only using part of the keyword search "Killer Apps To Enhance Twitter Network", what do I get?


Surprisingly, somebody tweeted this post from Digg, and the keywords used are coincidently the same for article submission in Digg. What if I use the exact post title? It returns with zero results.

Seems like there's not fixed rule of 'no keywords' allowed. However, Backtype Founder, Christopher Golda explains that the keyword search would only direct you to the unshortened link URLs containing the keywords. Backtweets still stands as a link search engine.
Downside of Backtweets:
Not all shortened URLs are traceable. For example, Backtweets is unable to detect twitclicks, another URL–shortener service with stats available. We'll be discussing more about this service shortly.
Search Results in

Backtweets

:
4 results (no

twitclicks

detected)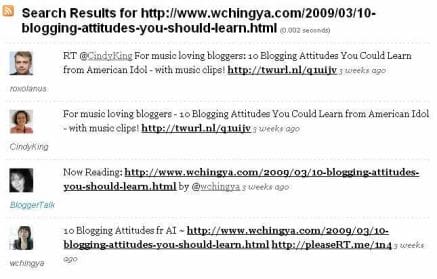 Search Results in

Twitter Search

:
showing extra 2 results for

twitclicks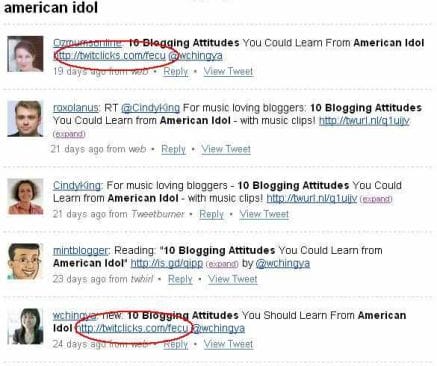 In the coming post, we will be covering part 2 of the Retweet-trackers. If you happen to enjoy this post, do subscribe via RSS Feed or email so you won't miss it. No pressure, you can unsubscribe anytime if you find it disturbing. ^^
Copyright © 2009 by Wong Ching Ya, All Rights Reserved, "'How To Track Your Retweet In Twitter (Pt.1)"