4 Timeline Apps to Add Pinterest to Your Facebook Page
Over the months we've heard about how Pinterest emerged as the third most popular social networks in the U.S., next to Facebook and Twitter. Let it be a personal news/interest curator or business portfolio, Pinterest has an impact to our online endeavors to discover, share and tell your story in a visual compelling way!
So here's my question,
have you thought about incorporating Pinterest into your Facebook Page?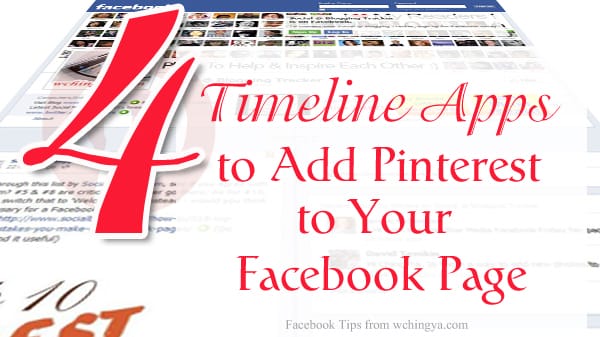 If your answer is 'yes', this post will be a good guide to check which app can best fit your requirement; if you've already done so, please let me know which Facebook apps you've tested and how effective are they to integrate your Pinterest account.
How to Add Pinterest to Your Facebook Page?
#1 
Woobox
 
Price: Free
Key Feature: To display all boards or ONE specific board.
Woobox is the most widely recognized method to add Pinterest to your Facebook Page. You can set a FanGate via image or URL to load before visitors can view your Pinterest tab after Liking your page.
Page admin can set to either import all or ONE specific board to be displayed. Here's an example from Ileane where she showcases her podcast pinboard: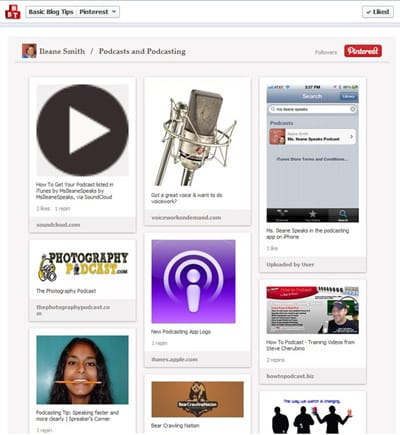 You can track, then export stats on views, visits and likes for your boards up to 90 days. Also, there is a 'refresh cache' option at the bottom of the app to load your most recent pins.
#2 
ShortStack
Price: Free for Pages with 2,000 total Likes or fewer.
Key Feature: Customizable interface to showcase selected boards.
Instead of the default view of all your Pinterest boards, ShortStack allows customization to your selected boards and app header as well. Thanks to 'Board Switcher', you can navigate from one board to another swiftly within the Pinterest tab. It takes a few steps to configure the interface:
i) After logged in your ShortStack account, choose the 'Pinterest' template and click 'Make Tab'.
ii) An example of the Pinterest tab is loaded. Edit the widgets to replace your own Pinterest info:
a. Header Text and Button – Name your Pinterest tab and add your Username.
b. RSS Widget – to load the pinboards of your choice.
Go to your Pinterest account and hover your mouse over the board of your choice. Copy the end portion of the URL ('board name') as indicated: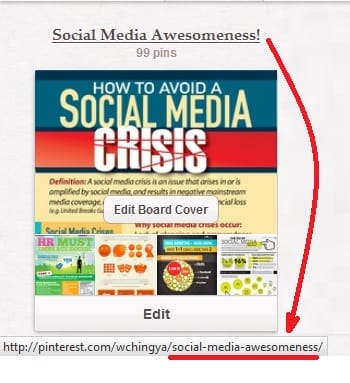 Insert your 'username' and 'board name' into the link below to retrieve its RSS feed:
 http://pinterest.com/<user-name>/<board-name>.rss
For example, the RSS feed for my 'Social Media Awesomeness' pinboard is:
Copy and paste the RSS feed into the widget as instructed: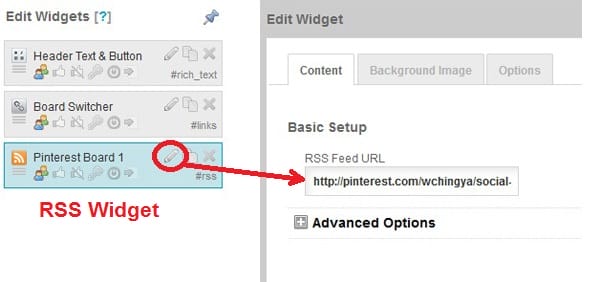 c. To add other boards, clone the RSS widget and edit the feed link separately:
d. After adding your selected boards, use 'Board Switcher' to name all boards within the app:
#3 
Pinterest tab

by Tabfusion
Price: Requires VIP subscription to install ($20/year or $30/3 years).
Key Feature: To display your latest pins.
I was fortunate to be given a test drive for this app during its initial launch. The setting is simple – just add your Pinterest username in the box shown below:
For now the app only shows the most recent pins from your Pinterest account. This may be suitable for starters who don't have too many pins within each board but like to showcase most of them anyway.
#4 
Pinvolve
Price: Free (White Label will cost $19.99/year)
Key Feature: To showcase your latest pins; including page updates in a virtual pinboard.
Similar to Tabfusion, Pinvolve showcases your latest pins instead of boards. All you have to do is go to 'Settings' and Save your Pinterest username:
There is one extra feature called 'Facebook Pins' where your fans can get a compact overview of your latest page posts. If interested, they can click to visit the actual post to interact. The 'Facebook Pins' board is visible at all times. You can, however, to exclude your 'Pinterest Pins' by leaving the 'Pinterest Username' blank.
The white-labeled version will have a richer interface at the bio section, here's an example from Keri's page:
Will you pay to get extra visibility for your Pinterest account?
Do take note that Pinvolve had disabled image-pinning from Facebook.com, but your fans can still 'Pin' the links you shared on your Page to their Pinterest account.
UPDATE 20/08/12: Pinning from Facebook has been reactivated! Your fans can now pin photos from your Page again!
Friendly Reminder: Don't forget to check out Top 5 Tips to Protect Your Privacy from Facebook Timeline Apps after tested any Facebook Apps.
Now Is Your Turn
Do you think it's necessarily for your brand to incorporate Pinterest into your social media effort? Which of these Facebook apps have you tried?