12 Tips to Optimize Facebook Page for Maximum Reach and Brand Visibility
You have all the big plans lined up for your fans, but is your Facebook Page optimized for visibility? How to make sure your brand reach out and get more eyeballs? I've compiled a list for you to check through, including 'Points to Ponder' so you can think thoroughly before implementing the technique of your choice. Sometimes it's the little things that count.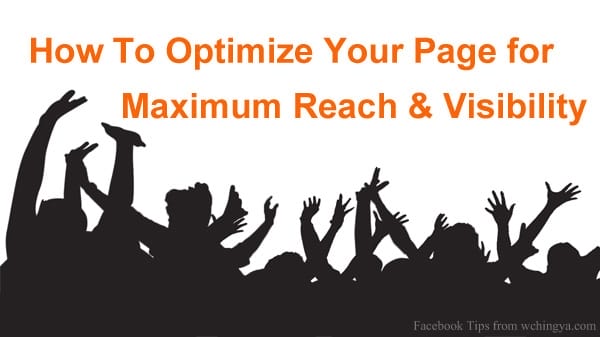 Optimize Your Page Layout for Visitors
#1  To Get Your Page Ready BEFORE Promotional Events
Some pages are not leveraging the traffic influx received from holding contests and giveaways. As a smaller brand, you can still be resourceful and welcome your visitors with grace. Make sure the most attractive tabs (custom made and packed with valuable info) are clear with 'Call To Action'; along with visible opt-in form on welcome app to keep visitors in the loop.
Points to Ponder:
If some of your resources point people to your external webpage, make sure it's not difficult for them to return to your Facebook Page, just in case. Your thoughtfulness counts.
#2  To Integrate Social Media Platforms that MATTER!
Before you're getting all hyped to pull in ALL your social networks, think WHY they matter? Is it just to show off how 'social' you are? Don't waste your facebook real estate for duplicates. See how distracting they can get if not used properly:

Social media integration is encouraged but don't overdo it.
Points to Ponder:
Over-automation can kill off page engagement. Repeated entries from integrated Twitter stream sound like nagging. There's nothing wrong to re-post but space out the duplicates, the last thing you want is to annoy your fans.
#3  To Integrate Facebook Social Plugins & Open Graph Apps (optional)
All brands should be aware that Facebook is just a medium to reach out but not your permanent property. It's best to own an external website where you have full control of the content you shared. Remember to insert Facebook social plugins to maximize your reach on Facebook. You can also utilize open graph applications that create stories in Ticker and News Feed when fans interact with them.
Points to Ponder:
A lot of users still get annoyed by app intrusion. So be careful when introducing your app and make clear what is visible to their friends upon installed. Let the users decide if they wish to publicize the info.
Optimize Your Page Content for Engagement
#4  To Break Through the Echo Chamber
We all know 'Quality is King' but not all content is suitable for your fans. Posts that don't get adequate responses will decrease your Edgerank Score. If you HAVE TO post a news source that everyone else is posting, try to personalize your message and deliver it differently. For example, Mari added a post link by Hugh to explain more about the 'Voice' feature apart from the screenshot, not forgetting a question at the end to invite engagement.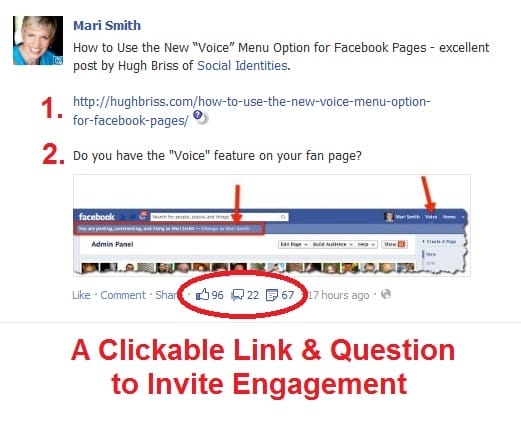 Points to Ponder:
Understand what makes your audience tick before broadcasting whatever 'popular' content you found on the web. If your page is managed by multiple admins, make sure they are aware that popular not necessarily equals suitable.
#5  To Maintain Continuous Interaction with Fans

Even there are only 2-3 comments, you should try to keep the conversation going by asking relevant questions that most people can relate to. This makes #4 even more vital because your topic decides the engagement flow and subsequent interactions with your fans in the comments.
Points to Ponder:
Edgerank Checker reported 'Comments' receive 4x the amount of Clicks on news feed comparing to 'Likes'. The more engaging your posts are, the higher possibility for your page to appear in fans' Top Stories. Some tips to pamper your fans so they engage more:
Show appreciation and respond timely to fans opinions, questions.
Reward returning fans with incentives (member of the month, free registration to coming event, free chapter of your new ebook etc).
Must Read: 12 Must-Know Tips to Improve Fan Engagement on Your Facebook Page
#6  To Encourage 'Sharing' among Your Fans
Your aim is to create word of mouth advertising in which fans are sharing your page stories with their friends. 'SHARE' helps a brand page to get noticed. Even with the perfect content strategy, you still need all the help you can get to increase brand visibility:
Encourage recommendation of your Page (it shouldn't be hard for fans to promote your page)
Encourage Check-Ins
Encourage Post-Sharing (tell them 'Why')
#7  To Identify the BEST Time to Post
After lots of trial and error, I was able to fine-tune my posting to reach more fans for engagement. Conclusion? Time matters! "Post more during busy hours, even weekends"- I bet you hear this a lot, but remember, whatever suggestions given will remain theories until they proven to work for you. So, test!
Points to Ponder:
Use Facebook Post-Scheduling feature to reach fans in different timezones, but don't over-do this. After tested, I noticed advanced posts are compressed into ONE story on my Timeline instead of individual stories. This will greatly reduce posts' visibility if people are seeing them on your Timeline. It's always good to NOT over-automate on Pages.
#8  To Monitor Your Facebook Page Insights
I know not many people like tracking stats but trust me, you'll need this. There is so much you can learn about your reach from Facebook Insights and how your posts performed. To me, Facebook Insights is enough but if you wish to get more from third party apps like Edgerank, you will have to authorize their access to your page for further analyzing.
FYI, your page 'reach' will now include mobile data along with desktop data. You can even sort your posts now by categories to view top-performed posts first.
Optimize Admin's Profile (Timeline) for Your Brand
#9  To Allow Subscription on Personal Timeline (Optional)
What I love about 'Subscription' is that you can show a personal side of you without being over-business-oriented. You don't have to reciprocate when been subscribed in order to interact with the public. Plus, if they decided to follow your public posts, you can double your chances of being seen in people's news feed apart from your Facebook Page. But you should know what you posted will affect your brand directly.
Points to Ponder:
If you're assigning a staff to talk about your brand in his/her public posts, make sure the profile is clean, professional and enjoys interaction with subscribers. Check how your personal timeline appears to non-friends consistently.
In the mean time, it'll be my honor to connect with you on Facebook, see you there?
Etiquette and Extra Tips for Brand Visibility:
#10  To Focus on 'Relationship-Building' instead of 'Likes'!
Aim more in building loyal, quality fan base instead of numbers. People can be quick in 'liking' a page, but to make them stay for good, a page needs to do a lot more than just posting: highlighting others over your own, reciprocal commenting, be responsive. That's why people 'Like' a Facebook Page – to support and establish connection with brand they are familiar with and fond of.
Points to Ponder:
Show people you are ready to engage in conversations. Select Pages that are relevant to yours and start sharing your HELPFUL opinions. Don't waste another 'me too' comment for nothing.
Also, you can gather your loyal fans in a closely engaged community (Facebook Groups) where more discussions about your niche can be done there. I'm suspecting this will be a popular feature if Facebook decides to roll it out, you think?
#11  You Do (Sometimes) Need Help from Influencers
I'm NOT asking you to PLEASE your niche influencers with 'whatever it takes to get noticed'. The idea is to 'work together' with the influencers for mutual benefits and to enrich both sides without affecting their credibility and yours. It takes time to gain trust, but just like any other important relationships you can think of – be honest, supportive, helpful. It's more than just extending your reach alone.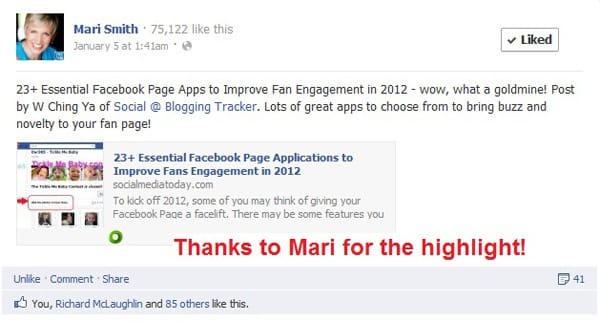 #12 To Consider Using Facebook Ads
If you're still not getting the results you hoped for, maybe it's time to consider Facebook Advertising, especially in getting back fans who already missing out your page updates. After regaining their attention, make sure you keep them engaged and interested.
Points to Ponder:
Facebook Ads can extend your page reach but it's NOT the ultimate solution for your page engagement. Adjust your page content and layout first before using Ads. The higher visibility you get, the lower price you need to pay for your ads. So it's important to improve your engagement.
So the next time you think about extending your Facebook reach and visibility, think 'engagement' and enrich your fans first. Reduce your sales pitch. When the fans are happy, you're happy.
Final reminders:
Make your fans LOVE you, but don't OVER-try it
Getting 'Like' is easy but to lose it, it's easier
Once you get the momentum going, don't lose it simply
What works best for you? YOU have the answer, monitor your Insights
Besides post content and frequency, TIMING counts too
Don't forget to check out these timeline ready apps to enhance your page; plus some useful engagement tips from the awesome, John Haydon:
Now Is Your Turn
What have you tried so far to increase brand awareness and extend your Facebook reach? Do you have more tips to add? Love to hear them out in your comment.