10 Social Media Apps to Watch in 2011
You should know by now how much of a facebook fanatic I am.  Since last year, I have not been blogging much about other social media apps except facebook. Well this week, I decided to do them justice by introducing you some of my favorite social media applications that got my attention long before 2011. Some of them may not be new to you, but they are all 'love at first sight' to me.
10 SOCIAL MEDIA APPS TO WATCH IN 2011
If you are expecting something grand, complex then it's not the purpose of this post. These social media tools impressed me with their simplicity and best of all, they are cost free.
Twitter:
#1 

Formulists
I remembered how tedious it was to group all my twitter contacts MANUALLY into Twitter lists. When I first heard about Formulists I was overjoyed! It is exactly what I needed to manage and reach out to other Twitter users based on our recent interactions, direct or indirectly. For example, I have an auto-updating list for 'Thanks-For-Listing-Me' generated by Formulists. Not only I can return the favor, knowing which lists I belong to but at the same time getting to know these kind people better: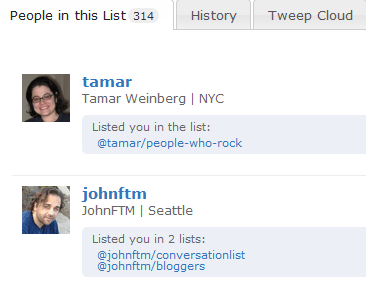 Formulists also gives you filtering options such as bio and location so you can better customize your lists for targeted contacts.
Remark:
What I love is you can keep your lists in Formulists even though you deleted them from your Twitter account, a good way to refer back or exchange lists whenever necessary. Formulists provides a sidekick account if you used up all 20 twitter lists (limit) but till now I have yet gone into that so unsure how that works.
#2 
Mentionmap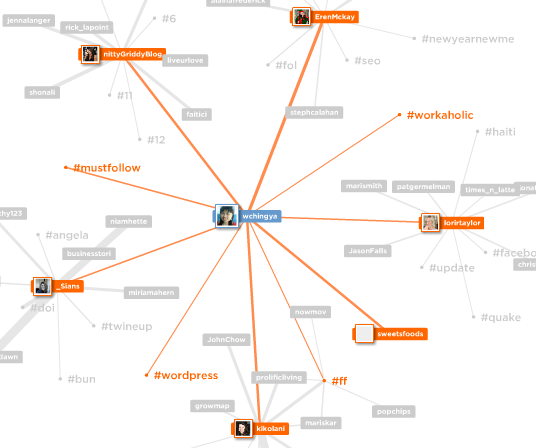 Fear not, you're not in Charlotte's web but a twitter conversation web to show you relevant people to follow on Twitter. Back then it was all about people and location search, now Mentionmap makes it 'visually' capable in discovering who our friends talk to recently and how we can expand our network through these potential contacts.
Remark:
Best of all, no Twitter authorization is required to compare your map with friends', something a lot more relevant comparing to Twitter's very own app called 'Who to Follow'.
Blogs:
#3 
Apture

Apture is a must-have if you are all about twitter and facebook sharing. Besides the catchy Twitter and Facebook share buttons, the search bar is equally impressive by offering results from your blog and Google. Your readers don't have to leave your site in searching for ideal content. It works the same when someone highlight any phrases within your blog post,  just click 'Learn more' and the search results will show up before you :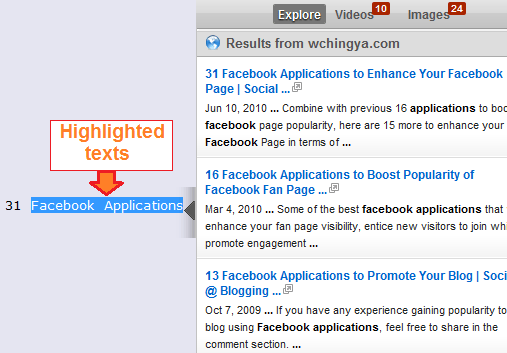 Remark:
Apture bar occupies the top spot of a blog. However, it moves following the reader's scroll bar to encourage social sharing after reading! Pretty neat, huh?
#4 
Hellobar

I was having my regular blog visits when I found this app on a friend's blog. It is no Apture but a 'notice' bar for specific call to action.  Let it be a simple greeting, your latest blog post (via RSS setup) or even your latest tweet. Unlike Apture, it sticks on top of your blog and doesn't move along with the scroll bar.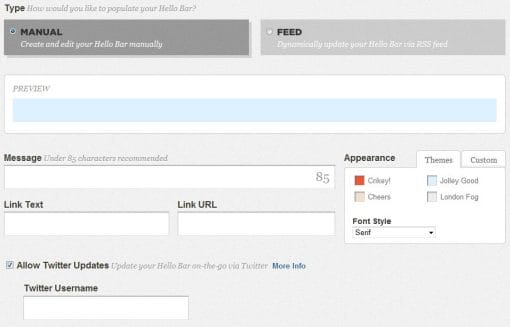 Remark:
All is well except newly registered users may wait a day or two before you'll get the Beta key emailed to you.
#5 
BlogPulse

BlogPulse is all about discovering what's hot and what you think matters in the blogosphere. You can find out who wrote about your brand and offered a link love! For instance, Evelyn mentioned my site in her post last year which I wouldn't have known if I didn't check with BlogPulse. I hurried over for a comment, praying she wouldn't mind my delayed thank-you. Imagine how many more blogs had slipped under my radar!

Remark:
BlogPulse can be very helpful for bloggers. Apart from Google Blog Search we need a focused tracker that not only about hottest trends but to discover potential bloggers we can network with.
Forums, Discussion Boards:
#6 
Omgili
Someone said to me earlier that forums are outdated. I don't quite agree with that. Forums may not be the mainstream but they have their own impact in shaping a community. Forums are ideal for detailed, in depth discussions. We should not neglect them when it comes to brand-monitoring. Omgili is perfect for the job in discovering what people are saying in message boards, discussion threads about any topics at all.

Remark:
Forum used to be the major ground for bloggers to interact with one another. Thanks to Omgili, I was able to track a discussion thread in which my Twitter account was mentioned. When participated in the discussion, I remembered how forum is still playing the role in building trusts and knowledge-sharing among the members. You'll never know who you end up meeting with along the path.
Expanding Social Connections:
#7 
Rapportive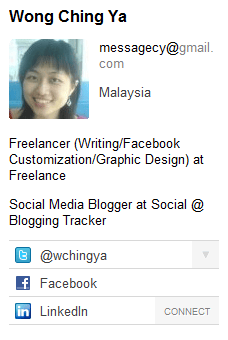 Rapportive is a nifty tool that shows you more than just a plain email address. Based on the sender's email, Rapportive is capable of pulling in gravatar image, LinkedIn profile, Twitter updates, Skype account and many more. You can follow up (I prefer not calling that 'stalking') your potential clients/readers closely on various social media sites. If you wish to check on other recipients in the same email, just hover your mouse over the recipient's name or email address will do.
Remark:
Absolutely loving it! Highly recommended if you are hoping to extend your social network in 2011!
#8 
Qwerly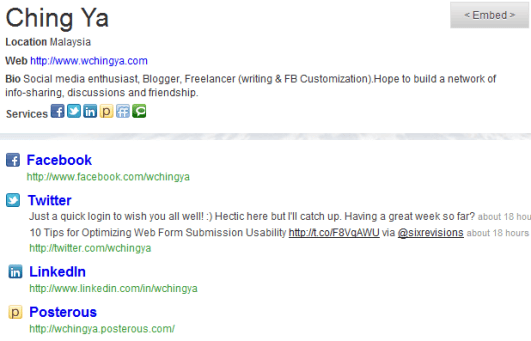 Qwerly helps you to discover where your Twitter friends are 'hanging' on the social web. Type in the twitter username like this '@wchingya' and it will give you an overview of who your twitter contact is and how you can connect with him/her other than Twitter. Exactly why it is referred to as the 'whois for Twitter'.
Remark:

You can verify and claim your profile by signing in with your Twitter account. It's that simple to claim your vanity URL with Qwerly.
#9 
About.me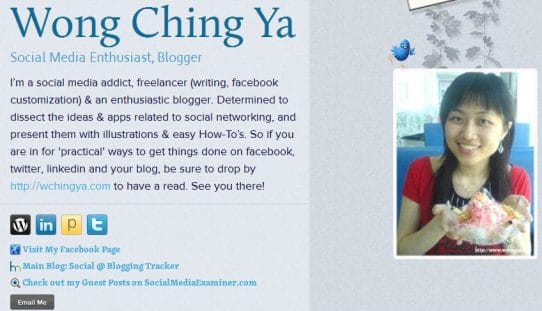 About.me is a custom profile and a dashboard for your personal analytics based on your social accounts like Twitter and Facebook. Create an account via your email then select your username. Add in as many personal details so others can reach you from your about.me account. It gives a huge interface up to 1680×1050 pixels but it's advisable to keep the size optimum.
Remark:
It's all about SEO benefit, whether you'll be using the analytical tracking or not. I'd love to grab my vanity URL whenever I can. Another thing I love is other people can reach me by 'Email Me' button without having to disclose my email address publicly at all!
#10 
Wordle
I HAD to include Wordle because it's so much fun!  Wordle is basically a toy to generate word clouds based on the URL you provided that contains RSS feed. A good way to find out what is the site mainly about. See how it describes my blog, do you think it's accurate?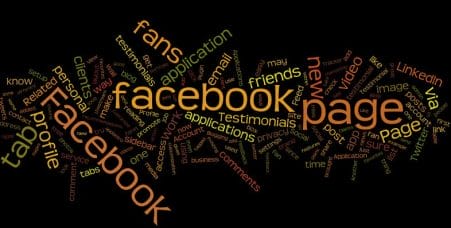 Remark:
Its visual effect is compelling! You can randomize, change the fonts or colors. So much you can do with it, it's time to get creative with your site.
Now Is Your Turn…
What is your favorite social media tool of all time? Which application above you'd like to try best? Tell us.
Like what you're reading ? Subscribe via RSS Feed or email so you won't miss a thing: