How to Become a Social Networking Magnet
The long awaited week has finally arrived! *Drum roll* Let's meet our honorable guest of the month – Chris Garrett! Chris had influenced me a lot about the importance of authority blogging. I'm proud to have him here for the first time and talk about how to become a social networking magnet. The stage is yours, Chris!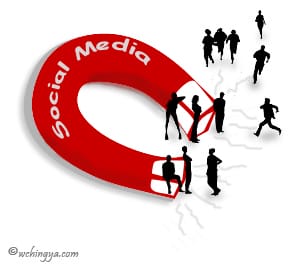 When I coach my consulting clients the conversation always comes around to networking. I would say having a strong network is vital to any business that wants to succeed online, and is certainly a vital asset for getting ahead in your career today.
We have all these tools, but still people struggle to make good connections.
People say to me "Chris, how do I reach influential people?" or "Chris, how can I get better opportunities to come my way?", and most popular, "Why is my network not growing?".
There is a simple answer to ALL of these challenges.
Want to know what it is?
The Simple Networking Secret
People have networking, and especially social networking, backwards!
Somehow people have gotten the idea that we should seek the benefits before putting in any value of our own. That we can take, take, take before we give.
Think of the most selfish, self-centred and greedy person you know. Do YOU find that attractive? Would you want to recommend them to others?
No?
Rather than think what your network can do for you, why should THEY have you in THEIR network?
How do you look from THEIR perspective?
See how simple it becomes when you turn the equation around? OK, so what you need to do become simplified, it doesn't necessarily become easy.
Add Value Without Taking
When you start networking with a 'take' mindset you turn people off.
Instead you should be building up your value to them.
Ask how you can help. Share what you know. Introduce people without asking for anything in return.
Get known as useful and generous.
What happens is more people want to get to know you, people feel like someone they can introduce to others, and most of all you build a positive reputation.
Summary
Instead of seeking out people who can help you right now, or trying to get on the radar of influential people, work on being the most useful, approachable and well-connected person in your niche. Become known for making great contributions and introductions. Over time your reputation will spread and networking will be a matter of responding to invitations rather than hunting down prized contacts!
Chris Garrett is a blogging and internet marketing consultant. He is co-author of the famous book ProBlogger: Secrets for Blogging Your Way to a Six-Figure Income and the founder of Authority Blogger course. Learn more about Chris Garrett and his blog here. Don't forget to follow him on Twitter @chrisgarrett and facebook too!