3 Ways to Add Google Map (Business Location) to Your Facebook Page
The incident with merged facebook page and Places has temporarily subsided, thanks to the much-requested 'unmerge' button. I didn't get to explore how the Places Page work but as much the Bing map looks attractive on the merged pages, there are numerous reasons why a business owner should think twice before merging.
Last Saturday, I had a light bulb moment when one of the page members wrote:
Although this has nothing to do with a Places page, but undeniably the idea of inserting a Google map into a facebook page is a great alternative! That way page admin can still use an interactive map to guide fans to their business premise without having to worry about page layout and losing landing tab setting due to the merge.
There are several ways to do this but personally I prefer facebook applications over manual HTML embed. I am anticipating for iframe app facebook promised to release in 2011 which will make dynamic content (like Google Maps) to be embedded a lot easier. Until then, here are some facebook applications you can use without having to worry about manual coding at all:
3 FACEBOOK APPS TO EMBED A GOOGLE MAP

-[01/04/2012] Does not support Secure Browsing
BlockWild Map lets you add a 'Map' tab indicating your business location within a facebook page. No HTML code required. All you need is to fill up your business name and address, the map tab will be up and running:
Notice that you can even announce local events for your business with details such as description, duration, image gallery etc. Fans can interact with you about the event via facebook comment box, or share it with their Twitter or Facebook friends (social buttons available). Since there won't be any notifications you should check on new comments regularly. To access the complete map, fans can close the event box anytime by clicking at the purple-circled 'x':
I love how the tab is named 'Map' to suit perfectly for its purpose. However, if I have a customized Google map to highlight special routes or places nearby, I will need more control over the map and how it is displayed. That's when Contact Tab comes in:
We first heard about Contact tab from my introductory about facebook page engagement tools (app #13). Back then I didn't go deep with the Map feature but today, you will see how easy it is to embed a customized Google map to your Contact tab. I'm using First World Hotel, Genting Highlands as an example:
1. Learn how you can customize your Google map here:

2. Once your map is ready, look for the option 'Link' at the upper right corner and click at it for the HTML code: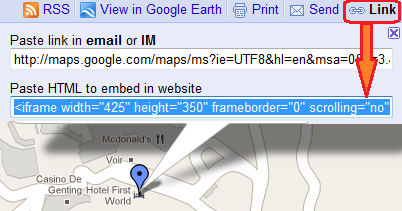 3. Next, locate the 'Contact' tab on your page wall -> Edit Application:
4. Paste the HTML code you copied from the map and paste into the iframe box at the lower part of the Contact Tab -> Save Application: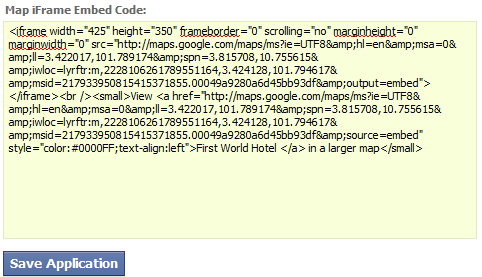 5. After been asked to 'click to view map', your fans can use the tools (red-circled) to move around the map, or zoom in/out at will: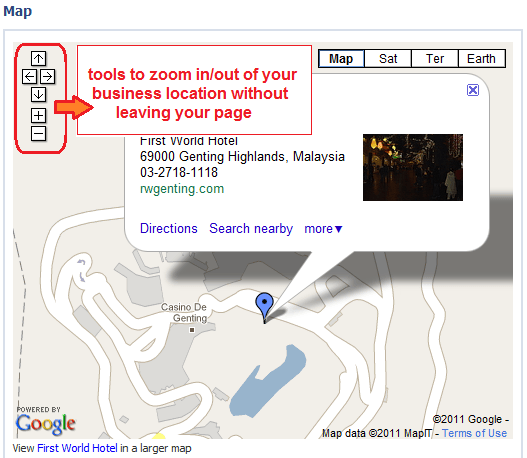 I love how Contact Tab is capable of adding a customized Google map, but if only other mandatory fields such as email, website and address can be opted out. The word 'Contact' may not be obvious for fans in finding the map so you may like to mention/add a link to it from your Welcome tab or Info.
#3 
Placewidget
-[26/03/12/]no longer available
Placewidget is also using Google map so if you had claimed your business on Foursquare, you can add this application to showcase the map. But unlike Foursquare main site, the map is non-interactive, merely an image file. A click at it will bring you to Foursquare where you can then explore the map thoroughly.
We don't know how long we get to stay in the old page format, but until facebook team improvises the Facebook Places for merging, page admins will have some options to show their offices via Google Maps for now.
Now Is Your Turn…
Is adding a Google map or Bing map essential for your business page? Shall the settings for default landing tab and tab-positioning be maintained in the new facebook page layout? Love to hear your thoughts in the comment.
MORE FACEBOOK TIPS: 
MORE TWITTER TIPS:
MORE INSTAGRAM TIPS:
Like what you're reading ? Subscribe via RSS Feed or email so you won't miss a thing: