How to Add Official Facebook Page to Your Personal Profile [UPDATED 2022]
Facebook is powerful and effective if been done right. But, there are times that I wish users can be given more control over things to share on their own accounts.
Ever since Facebook Page was introduced, users who are excited to share their professional backgrounds are constantly brainstorming to break through on a few matters, such as separating business from personal account, even though the idea of letting our contacts know about our expertise can be quite enticing as well.  But, how can we achieve the sweet spot without appearing preachy or annoying?
One of the easiest and most friendly method is none other than adding a Workplace Link (formerly known as employer link) to your Profile's About tab.

How to Add Workplace Link to Your Personal Profile (Updated 2022)
Now for the latest Facebook Timeline layout, adding your Facebook Page as the Workplace (or employer link) is easier than ever. Just go your Facebook profile's 'About' section.
If you had previously updated your work or other personal info, you can view them all at 'Overview'. To add employer link to your personal profile, first you need to go to the 'About' section.
About > Work and education > Add a workplace
If your company had already created a Facebook Page, you can try to look for it. Or if you would like to add your own business page, you can do so as well.
Company: Just start typing your company name here and the drop down menu will show you a few suggestions. Once you've found your company, click to add it.
The page you added will have an active link so when people click at your company name, they will be directed to the Facebook Page. This will no doubt, increase the visibility of your Page.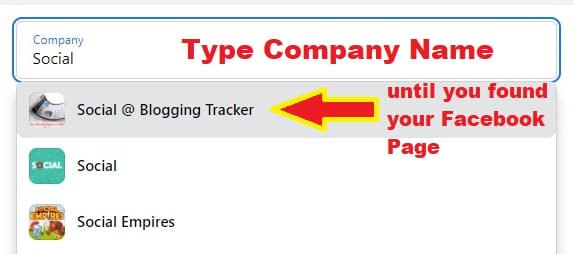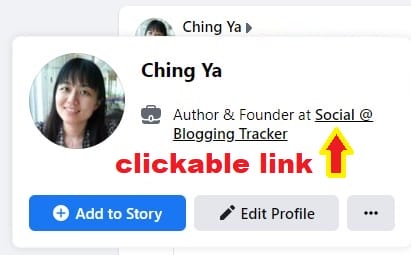 Sometimes, different branches may have their own Facebook Page. Depends if you would like to add the official one or the branch you're currently work at.
Note: If you cannot find the page, be sure to LIKE your company's Facebook page first before adding it. Sometimes, it may take a while for the new page to appear in the suggestion menu after you've liked it.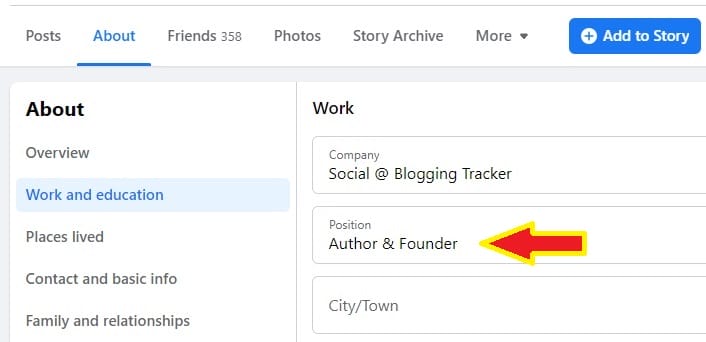 Position: Simply type out your position name that fits you expertise. There won't be an active link for 'position' so don't worry if you cannot find the position of your choice in the suggestion box.
City/Town: Places where you work. If your business is about networking/reaching out to people within your area, you can fill it in as well. If you don't feel like giving out this information, leave it blank.
Description: A brief introduction about your work and expertise.
Time Period: Mark your current employment by ticking the box for 'Time Period > I currently work here'.
Extra Tips: How to Increase Visibility of Your Facebook Page (Updated 2022)
While the Company Page link is quite enough for people to visit your Facebook Page if they want to, adding an extra link in your work description definitely doesn't hurt. If you've crafted your description properly, you may even persuade more people to visit your Facebook Page by adding a call to action in the end.
The link may not be clickable in the description, however, if you allow to Share as a post on News Feed, then the link will be clickable. (this option will be given once you've added your Workplace successfully)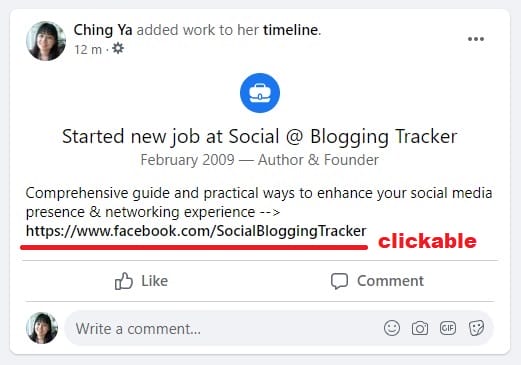 Also, when people visit and click your Profile's 'Life Events', it will appear just like the post on the Timeline.
Another important tip is to always keep your Facebook Page's About section up to date. People can always mouse over your Facebook Page to get a preview before clicking and you don't want to miss the opportunity with an outdated or blank page.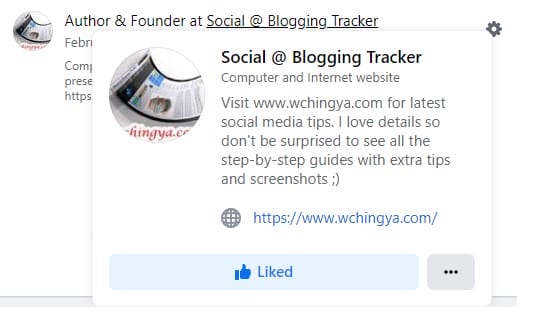 If you have more than one Facebook Page to share, you can definitely add more workplaces by repeating the earlier steps. But don't overcrowd your personal space, remember to properly separate your work from leisure without offending your friends. Plus, people are less likely to click if there are too many links displayed. Focus on one Facebook Page at a time.
Why is My Facebook Page NOT Showing on My Personal Profile? (Updated 2022)
Make sure you've checked the visibility of your Workplace. Go to About > Work and education > Set the visibility to your preferred audience.
If your Facebook Page is still not appearing/visible, there are a few things you need to make sure of:
Your Page needs to be 'Published'. To check, go to your Page Settings > General > Page visibility (set to Page published)
If your Page has Country or Age restrictions, it may only be visible to a certain group of people. Therefore, make sure it's visible to everyone.
If your Page is brand new, it may take a few days for it to appear in Facebook's system. Also, make sure you have completed most of your Page's information, such as basic info, adding a profile picture, cover photo etc.
NEW PAGE EXPERIENCE: Check Your Settings
If you've recently switched to New Page Experience, the steps are slightly different than your classic page interface.
Now, you'd want to check if you've accidentally restricted your New Page to a certain age group or countries:
Go to your Page's upper right corner and click the Page's profile picture. Go to Settings & privacy > Settings
In the New Page Privacy section, look for Public posts > Restrictions

Now that you've made sure your New Page is visible to everyone, it won't be a problem to add it to your Personal Profile.
The Page visibility will no longer be available. Instead, the New Page Experience allows you to activate or deactivate your page.
So, if you had previously deactivated your Page, make sure to reactivate it before adding it to your Personal Profile.
To Reactivate Your Deactivated Page:
Click your New Page's profile picture at the upper right corner. Go to Settings & privacy > Settings 
In the New Page Privacy section, look for Facebook Page information.
Click Reactivation, then click "Reactivate" next to the Page you want to reactivate.
How to Invite Friends to Like Your New Page Experience (Updated 2022)
Now that your Facebook Page is all set and attached to your Personal Profile's employer link, you can invite your friends to like your New Page to increase its visibility and engagement.
If you have recently switched to a New Page Experience, chances are you might face a glitch while inviting friends to your Page – the "Invite friends" option on the New Page Experience failed to work:

It's understandable since the idea of the New Page Experience is to separate itself from your Personal Profile. However, it did take away one of the most useful features to increase followers.
But fret not, the option is still there, you just need to know where to look for it. Here's how you can invite friends to follow your New Page Experience:
Go to your Facebook Page/ New Page, click on Manage. Or, just look for Professional Dashboard at the sidebar.
In the Professional dashboard, look for Grow your audience > Invite friends to follow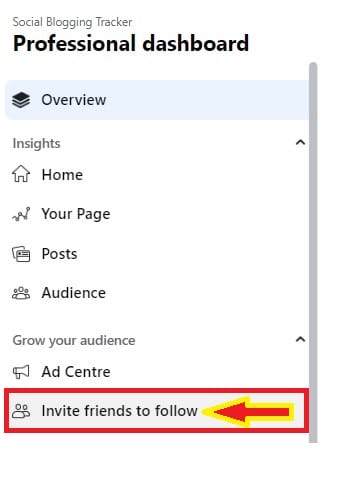 You will be asked to switch to your personal profile. Click Continue.
Now that you're acting as your own Profile on Facebook, you can now invite friends who have not yet liked your New Page by ticking the box next to their name. When you're done, click Send Invitations.
It is said that you can only invite up to 200 friends to like your New Page. So, go easy with the invite. By the way, be sure to check out other important things you should know about New Page Experience, especially if you're a Page Admin.
Problem: Cannot Find The Right Facebook Page (Updated 2010)
If your company's Facebook Page does not appear in the drop down suggestion, make sure to 'Like' the Facebook Page first before adding it. 
Adding a Facebook Page as your employer link should be easy but there's one major problem: no option to place our very own official page link there, instead a community page is created for each field inserted. Huh?
Imagine the frustration for unable to showcase our brand correctly with an authentic page. But now a new found fix will change all that – thanks to a Firefox add-on named Web Developer, and you don't even need to stick with firefox after this, only during the setup.
Web Developer – the magic plugin to fix employer link
If you do not own a firefox browser, Web Developer will give you enough reasons to install it for the sake of your business page visibility. This add-on is for firefox only but final result will work on all browser types. Web Developer adds a toolbar for web development purposes, but no fear as inserting a page ID will get things done with no coding complications at all.
Without further ado, here are the solutions:
Solution For Older Profile Layout (Before Profile Upgrade):
1. Firstly, install firefox if you haven't and run the setup.
Special Note: Good news as Google Chrome also comes with the Web Developer extension and it works exactly the same way!
2.  Next, install Web Developer to your firefox.
3.  Restart the browser as instructed and you will notice a toolbar appears on top of the browser.
4.  Now go to your official fan page and locate your Page ID.
If you already claimed your vanity URL or username, then retrieve your official page ID by mouse over 'Edit Page':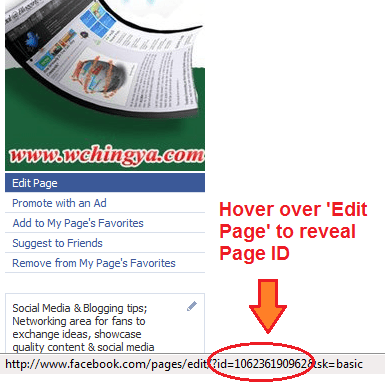 5.  Let's go to your personal profile now : Profile -> Info tab -> Edit
6.  Select 'Education and Work' -> look for 'Employer' field box (with 'Add Another Job' below it).
7.  Now at your browser, look for the Web Developer toolbar and select Forms -> Display Form Details

8.  Do not be taken aback by the scary looking codes displayed to you. Instead, try to identify the location of this code:
<input name="work[employer][id][0]">
Once you have found it, insert your page ID next to the grey box as shown below:
9.  Turn off codes by deselecting 'Display Form Details' on your browser and fill in the rest of the details -> Save Changes. You can add as many jobs as you prefer by repeating step #7-9.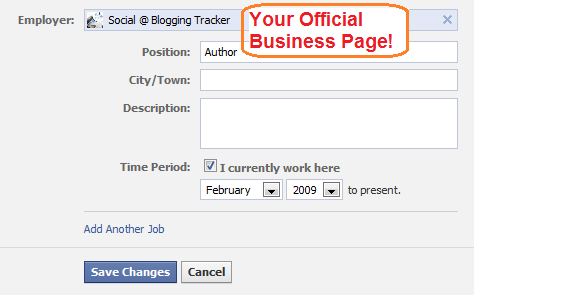 10.  Go back to your Info tab and admire the result!
Solution For New Profile Layout (Updated 2010)

:
Updated (23/02/2011): For New Profile, now you can have a much simpler way to add your Facebook Page. Just delete your job (that created a community page) and when you try to re-add it, you will be prompted to link to your managed facebook page. No extra steps required.
Updated (09/12/2010):
Now recently facebook had recommended their users to upgrade their personal profile to new layout. This method still works but with a slight twist at the Page ID insertion part. I would recommend you to change the employer link in the old profile first before upgrade to save the trouble. Or if you had done so, then follow exactly from Step 1 – 6 above, then continue the rest here:
7. Type in your Page Name in the Employer box, click 'Add' (your page name)'.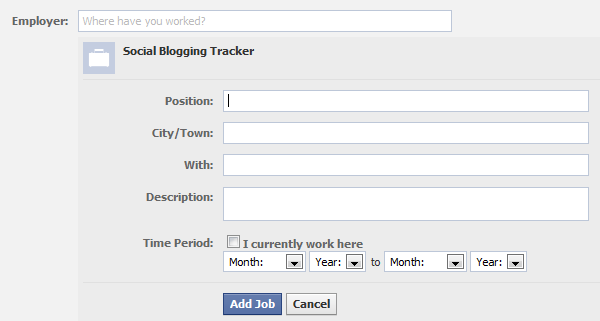 Sometimes facebook will load the correct thumbnail of your official page. When that happens, you can stop here and shout for joy! If instead of your page but a briefcase thumbnail appears (community page is created), then go on with the rest of the setups by going to your browser and select:
Forms -> Display Form Details
8. Again, try to locate the location of this code:
<input name="work[employer][id][0]">
Once you have found it, change the community page ID to your official page's in the grey box:

Click 'Add Job' (or 'Save Changes' if you are editing) to confirm your change.
Optional: Sometimes if the page is not updated correctly, try to add details to your Job, for example setting the Time Period -> click 'Add Job' (or 'Save Changes'). You can always remove them later after you had successfully added your official facebook page:

Your official page should be added correctly now.
Solution For New Profile Timeline (Updated 2011):
Updated (23/12/2011)
For the most recent upgrade to Profile Timeline, slightly different for where the employer link is located and the code as well. Refer to the instructions below after you had installed the Web Developer Add-on. I'm using Firefox 3.6.22 for this example:
1. Go to your Profile Timeline -> Update Info (or click 'About') to access your work and education details.
2. Add your work by typing the name of your business page. Sometimes instead of the Page's full name, try its partial name so it will appear in the drop down:
3. When that's not working, use the Web Developer -> Forms -> Display Form Details. Then locate the code <input name="employer_id"> to insert your Page ID in the grey box:
Extra:
There are a few things I came across during the setup as well – the 'position' you filled in Employer section will be directed to a community page (of course), just as how the employer link reacts before the change.
So make sure you select the best position title that describes your post. If needed, use the same method to control where the link is been directed to.
Now is Your Turn…
Does this method work for your employer link? Or do you have a better idea for a fix?
MORE FACEBOOK TIPS: 
MORE TWITTER TIPS:
MORE INSTAGRAM TIPS: