[UPDATED 2023] 15 Practical Ways to Protect Your Facebook Profile from Facebook Page
Previously, we've talked about how to separate your personal profile from Facebook Page. Since you need to create a Facebook account to manage a Facebook Business Manager account (Business account) anyway, which is why, brings me to our next discussion.
We will talk about how you can prepare your personal account to fit in the ever-growing Facebook world – by being real and less public at the same time.
More Ideas to Keep Your Personal Profile Separated from Facebook Page
There are things you can do to minimize your connection to the business world/Facebook page.
The highest level of security is to limit profile visibility on Facebook. You won't be able to stop someone from finding you on Facebook completely, but by going through these settings, you're telling Facebook you wish to keep things private and only share them with people you care about.
#1 Limit Who Can Find You on Facebook
To do so, limit friend-finding to just 'Friends of friends'. Meaning, only friends of your Facebook friends can send you friend requests.
Go to Facebook Profile's Settings & Privacy > Settings > Privacy > How people can find and contact you > Who can send you friend requests > Friends of friends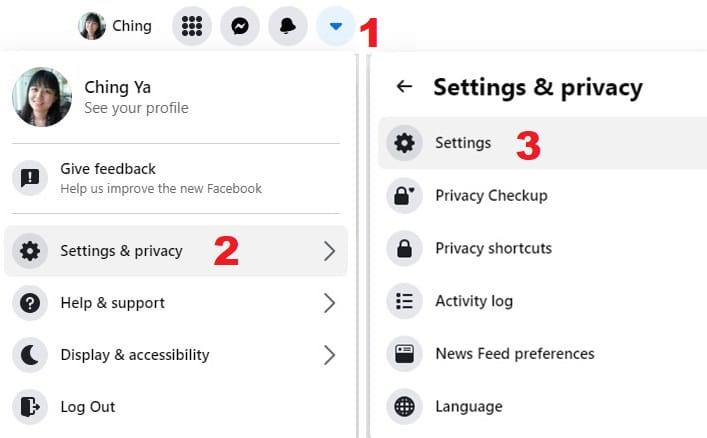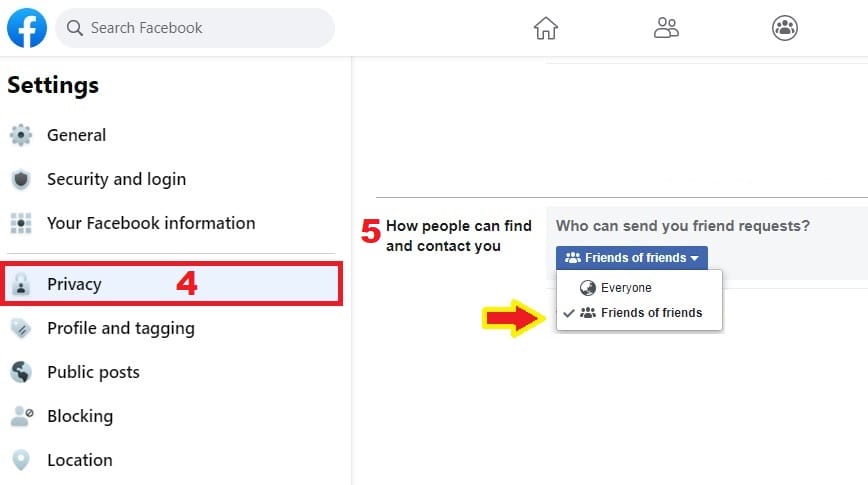 This privacy setting will narrow down the quantity of people reaching out to you surely, unless you happen to befriend someone on Facebook with thousands of friends… well, that's another story.
In that case, you can choose to 'follow' the person instead, without friending, but that will limit your connection with the person to just viewing his/her public posts.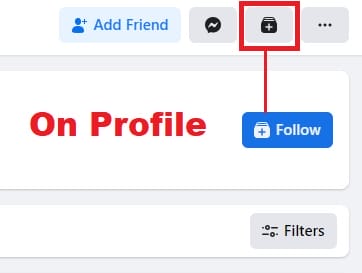 #2 Select a Unique Username or None At All
If you're new to Facebook, your account need to be verified via mobile phone before you can set/change your username.
Go to Settings & Privacy > Settings > General > Username

Your business contacts may still try to find you on Facebook via username, phone number and email address. So, if you put your name as your profile's vanity URL: 'http://facebook.com/yourname' may just give you away. Do not set one for the profile, or modify it if necessary.
#3 Protect Profile Information from Public Viewing
There are several information you can hide from strangers, especially your phone number and email address, which people can use to find you on Facebook. Adjust all the necessary privacy settings:
Go to Settings & Privacy > Settings > Privacy > Privacy Shortcuts > Manage Your Profile

This will limit visibility of your birth date, relationship status, mobile phone number, places lived, work & education and more. You may 'Select Audience' to fit your requirements. I'll set it to 'Only Me' for now.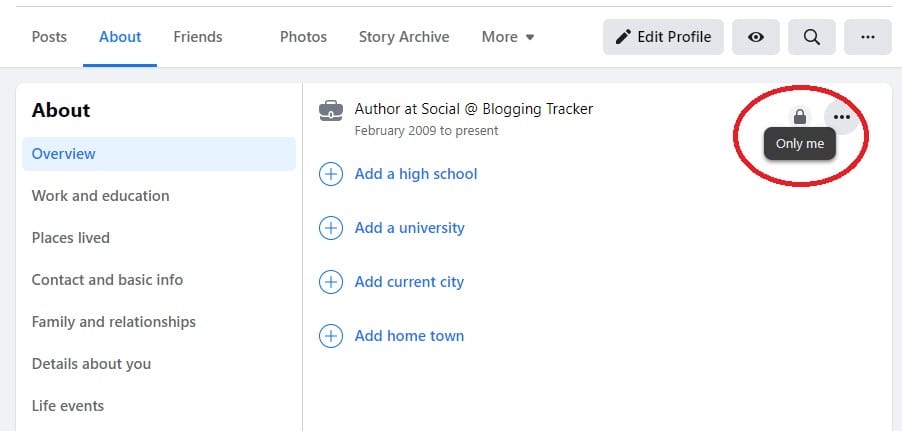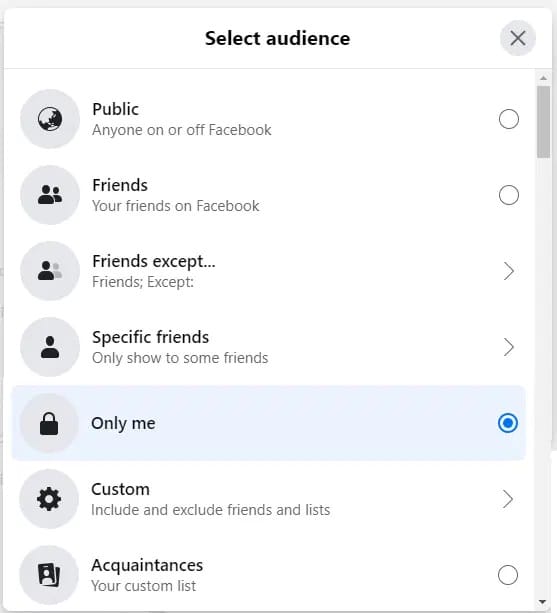 Other privacy settings including limit visibility of all your future posts and activities across Facebook, turn off search engine crawling of your Facebook Profile etc. Read more about these settings at this post.
i. Hide your Friend List
If you are to protect private contacts such as close friends or family members, customize your Friend List to 'Only Me' or 'Friends'. Be alerted that your business contacts may still reach out your real life friends so it's advisable to tighten the option as suggested.
By set it to 'Only Me', other people will be able to see mutual friends instead of the full list, which can only be seen by you.
Go to Friends > Edit Privacy > set visibility to 'Only Me' for Friend list, Following and Followers.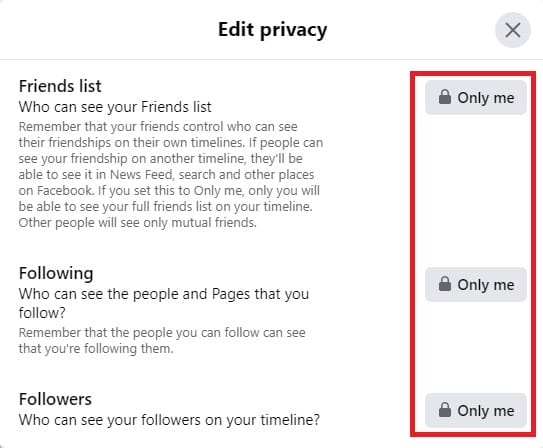 ii. Hide Your Work and Education, Places lived
Unless you are using your Facebook profile as part of your effort to engage/networking with other business contacts or Pages, otherwise protect the mentioned info or leave them blank. Click your profile, go to About > Overview > set visibility of your workplace to 'Only Me'. Same method for all other options.
iii. Hide Your Interests, Likes, Groups and more
Now Facebook allows you to manage sections of your Profile as of what to remain visible while some, not. For example, you can hide check-ins, likes (liked pages), events, reviews given, groups and more.
Once you're satisfied with all the settings, go back to your profile, click at the eye icon to 'View as'. This will show you what public is seeing when they land on your Facebook Profile.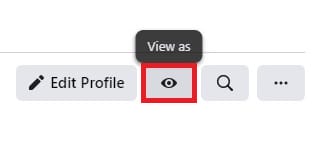 Another method to do this is to go to your Settings & Privacy> Settings > Profile and tagging > Reviewing > Review what other people see on your profile > View As
#4 Limit Contact Ability to Your Profile
Below options require you to be selective with whom you are friending on Facebook.
i. Friend Requests
The highest level of security is 'Friends of Friends'. It is an option set so to encourage friends to find one another. Strangers will not see the 'Friend Request' button until they become friends of your Facebook friends first.
Set the privacy settings to 'Only Me' if you don't wish to be found when people try to look you up by using the email address and phone number you provided on Facebook. Also, select 'No' if you don't want search engines outside of Facebook to link to your Profile.
ii. Receiving Messages
Nowadays, people can send you message requests, even you have not chatted or connected with them before. You can adjust settings to allow those messages to end up in Chats, Message Requests or Not to Be Delivered to you at all.
Facebook allows you to separate the potential contacts from complete strangers, so you may decide where their message requests land:
Go to Settings & Privacy > Settings > Privacy > How you get message requests > set to 'Don't receive requests'. But if you are interested for potential connections, you may set it to 'Chats' or 'Message Requests' instead.
#5 Limit the Ability to be Tagged or Shared by Friends
Facebook Stories: If you would like to prevent your friends from sharing your posts to their story, make sure you disable the option at once:
a) Profile and tagging > Viewing and sharing > Allow others to share your posts to their story> Disabled
b) Go to Stories > Sharing options > Allow others to share your public stories to their own story > Don't allow
Tagging: You cannot control what your friends are sharing to their audience, but you can certainly avoid been tagged by going through the below settings. This will prevent your profile link been exposed to public while making sure no outrageous videos or pictures are attached to your profile:
Go to Profile and tagging > Tagging > customize the visibility to 'Only Me'.
You can also review posts you're tagged before they appear on your profile:
Go to Profile and tagging > Reviewing (set to 'On')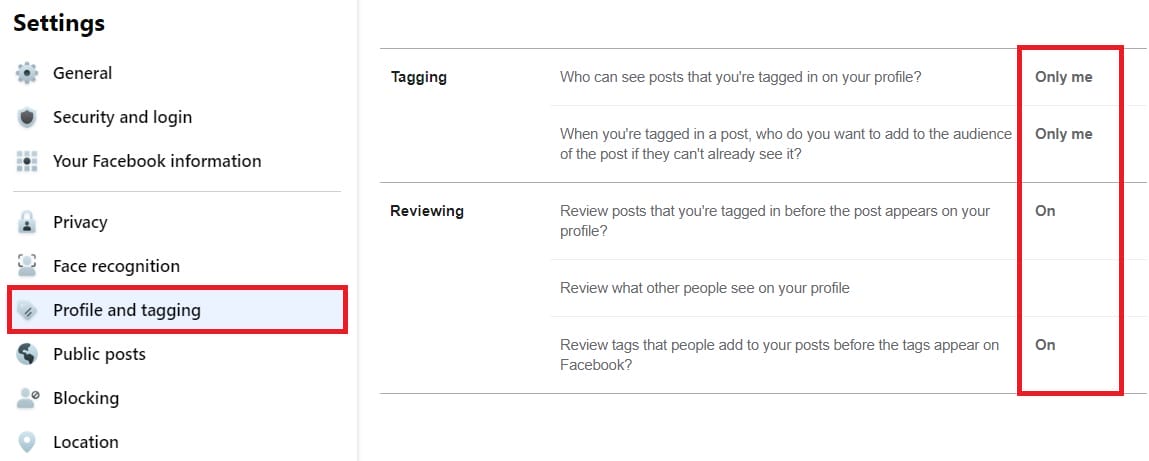 Your friend my still able to use status-tagging on you, at least you can remove the tag as soon as you found it on the wall.
#6 Check and Remove Unnecessary Facebook Apps
Make it a regular habit to check the apps and websites who have access to your Facebook account. Remove the unused/outdated ones to avoid intrusion or hacking. Be skeptical in all games and quizzes sending your way. Ignore or block the apps for good so they won't appear on your posts. Go through each section as most of them are opt-in by default:
Go to Apps and websites > click View and Edit for selected app > Additional App Settings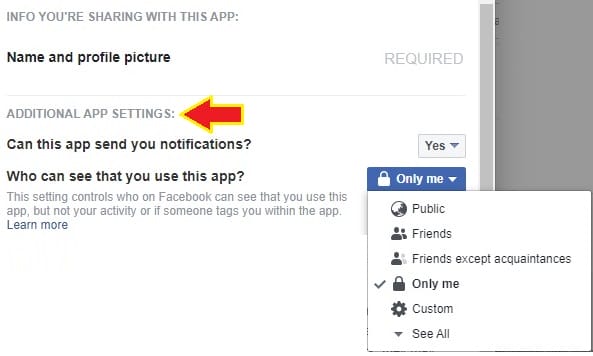 You can stop getting notifications from the app or control who can see you're using this app. Same thing goes for Instant Games. Just in case you have older posts by old or outdated Facebook mobile apps, tweak the setting as below:
Go to Apps and websites > old versions of Facebook for mobile > Only Me
To hide the games you liked on Facebook, go to your personal profile > look for Apps and Games section > Edit Privacy > set the visibility for 'Likes' to 'Only Me'. Another way, is to hide the section completely via 'Hide Section'.
#7 Disallow Face Recognition
Change the setting to 'No' if you don't want Facebook to recognize you in photos and videos. (Yes, they can do that!)
#8 Separate Business from Personal Contacts using Facebook Lists
This is a MUST if you have already mixed both business and personal contacts in your 'Friends' list. Not just for the sake of following up easily in News Feed, but to better control over what to be shared to specific group of people when updating your Wall. Best of all, you can declutter your news feed via these Facebook custom lists.
To setup a new list, go to your Facebook feed, expand the left column by clicking 'See more', then look for 'Friend lists', click at it.
You will have a full list of custom lists, if you had created them beforehand. If not, start to create a new list by clicking 'Create List'. Now you can give your new list a name and add members to it. Once you're done, click 'Create'.
To get more options for existing lists, click at the list you've just created in which you'll be brought into a group-like feed. Here, you can manage your list further: Rename, Edit or Delete list.
#9 Control Posting Visibility via Share-ability
Facebook Lists enable you to hide sensitive information, friends and even real time Wall posts from appearing on some people's news feeds.
Use the Privacy setting in the Publisher as shown below, select whom to block from the info or limiting the update to specific group of people only. For instance, if you about to post a personal update to selected group of friends, select from your custom lists prior sending out the update:
You can even custom your post privacy to hide it from your client list, if you had previously accepted their friend requests on Facebook: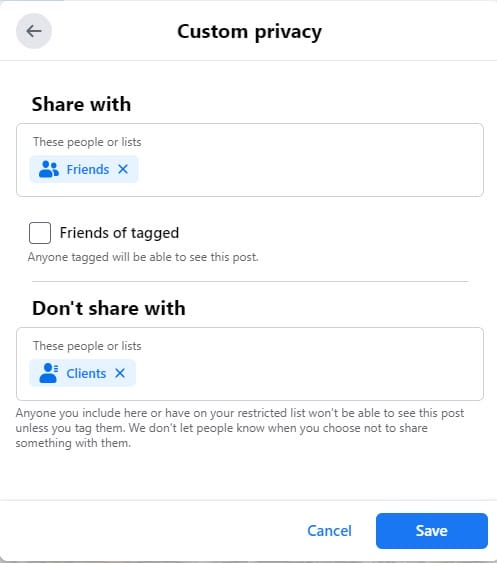 #10 Tighten Up Privacy Option for 'Friends of Friends'
The reason I'm emphasizing on 'Friends of friends' is because your business contacts may reach out to your friends for friendship. No way we can prevent that so if you have set 'Friend of friends' for certain profile information, try to restrict its visibility further via:
Custom Privacy: If the person is in your 'Friend' list.
Block: If the person is not in your 'Friend' list:
Go to Settings & Privacy > Settings > Blocking > Restricted list or Block users
To restrict or block someone, you need to understand the difference:
Restrict someone – he/she will be able to see your Public posts or tagged post of them.
Block someone – he/she won't be able to see your posts at all. By blocking someone, that person will be removed from your Facebook Friends at once.
Or if you can't find the user via 'Name', just block from his/her profile instead: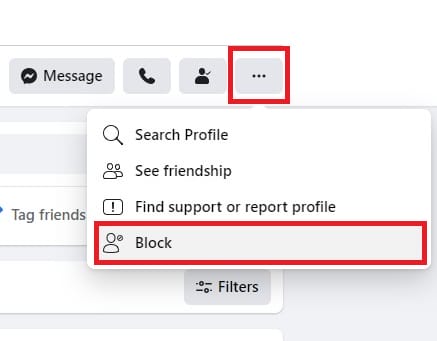 #11 Set Future Post Visibility Once and For All
Another way to separate business contacts from personal is by hiding your future posts from them once and for all. Here's a quick way to do it:
Go to Settings & Privacy > Settings > Privacy > Your activity > Who can see your future posts > set the audience visibility to 'Custom' in which you can adjust who to share/you don't share with.
In the audience drop down menu, click 'More' and then 'See All' to load the custom list option.
Public Post Filters and Tools:If you're particular about who can follow or comment on your Public posts, be sure to control the visibility: Go to Settings & Privacy > Settings > Public posts > Public Post Comments (either set to 'Friends' or 'Friends of friends')
#12 Always Comment as your Facebook Page
Whenever a page admin tries to comment or post on other Facebook Pages, all responses will be seen as coming from the admin's personal profile by default. Unless, you switch to do so as your Facebook Page.
On your Facebook Page, it's always recommended to comment as Your Page. As for other people or Pages that tagged your business page, feel free to acknowledge their kind gesture by thanking them as Your Page (not your personal profile). It's a good way to boost visibility and build connections for your business, without giving out your personal info.
#13 Status-Tagging & Liking as Your Page
Tagging, when used properly, can help to promote or network with other Facebook Pages. Be sure to use this feature moderately when you're trying to status-tag another page. You can also like a page as your Page, just choose 'Like as Your Page' from the drop down menu.
The advantage of 'Like as Your Page' is that it won't be included in your Profile's activity log or showing up on your Personal Profile. The other Page will also be notified about your Page liking it as well. No private info is shared except your business page.
As for photos- and videos-tagging on Facebook Page, you can manage tagging ability of your page here: Go to Manage Page section at the left column, go to Settings > (Page settings) look for 'Tagging ability' and 'Others tagging this Page'.

#14 Ability to 'Share' as Your Page
'Share' is another key influential option for you to network with other Pages, along with status-tagging the page in your post description. It's a good way to give credit for the original poster as well.
#15 Knowing that 'Privacy Settings' is not Invincible
Not to be a party pooper but it's important to be self-prepared. Do not post what you don't want others to find out. Moderate your messages, photos, videos and status updates… so that even if there may be security loopholes, you've got nothing to worry about.
What Do You Think?
The idea of this post is not to offer you the best method but suggestions that one may find helpful in managing his/her Facebook account. Facebook will continue to evolve. No matter how far we go, always remember we are responsible for our online presence and branding. If you do not bother about it, nobody else will.
Did I miss out anything? Share your ideas in the comments.
MORE FACEBOOK TIPS: 
MORE TWITTER TIPS:
MORE INSTAGRAM TIPS: