7 Easy Ways to Add Clients Testimonials to your Blog
Freelancers, marketers, even bloggers are taking testimonials seriously. Although some referring it to be purposed for closing sales, truth is testimonial is a critical aspect in brand monitoring.  While I was outsourcing for hosting service, the clients' reviews are my 'first impressions' to the brand. Not solely on the after-use experience, but how the brand is channeling  positive  clients responses to benefit their marketing strategy, creating a sense of urgency for visitors like me to know their service better – that is simply encouraging.
7 Easy Ways to Add Clients Testimonials to your Blog

You don't need me to tell you how big social media is these days. So if you are hunger for more eyeballs and opportunity for the service (or product) you provide on your site, I will be introducing you some Twitter applications and wordpress plugins to showcase your very own clients' testimonials. You'll be surprised how easy it is done:
It's not the first time we heard about using Twitter Favorites as a Testimonials-collector for its users. The reason why it is so popular is that Twitter Favorites is public viewable, not only you can retweet it but its RSS feed can be embedded to other social media sites for visibility.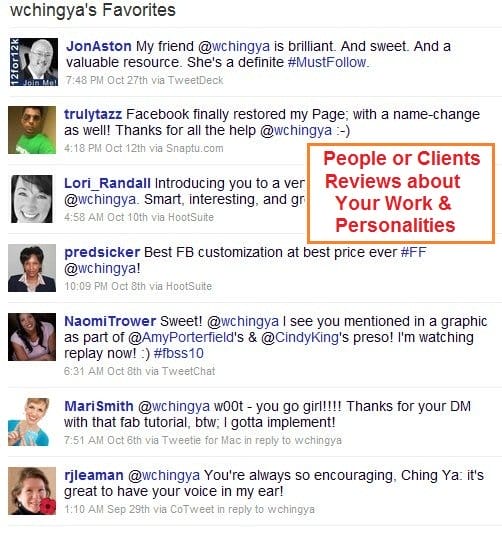 For example, Twitter's very own Faves Widget allows you to place the testimonial tweets (tweets you've starred as favorites) at the sidebar or most visible spot in your blog: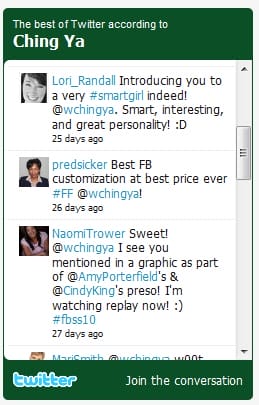 The only downside with twitter favorites is that we won't be able to keep them forever. The results will update themselves with the most recent tweets been displayed first. If you're not a consistent twitter user, the old tweets may seem outdated to your visitors. Therefore, if not work-related, quality recommendations concerning your work ethics and personalities may be a good fit too.
This is a much simpler, non-fancy script to import Twitter testimonials to your website. It displays two tweets in one time and auto-refreshes itself after few seconds. No avatars but just texts with status link. You can adjust the colors and width whenever necessary. Sweet and simple.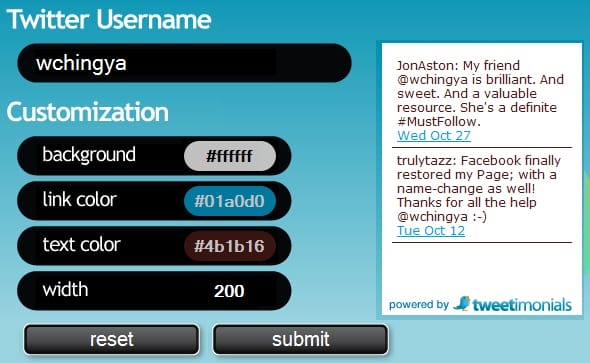 The setup is quite easy, just install the plugin and look for it in Appearance -> Widgets. It will then show up at your blog's sidebar. The maximum tweets can be added up to 20, with a call to action to follow your twitter account right beneath it.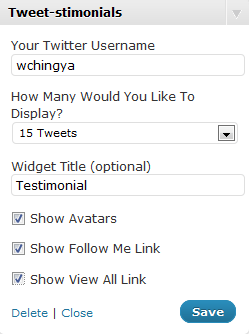 LTW (LessThanWeb) Testimonials enables you to place your client testimonials as a page, equipped with sorting and various configurations available for clients details, visibility for testimonial groups or clients and more. Not only that, you can edit the HTML and CSS code from the admin area to enhance the layout of the testimonial page. An excellent plugin to self-customize based on your clients feedbacks.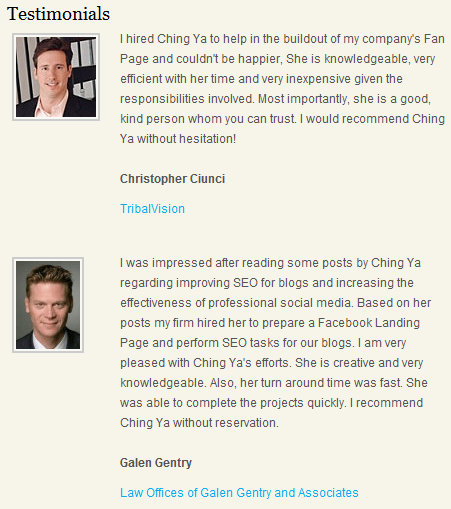 #5 

Collision Testimonial

– Wordperss plugin
–[30/05/12] no longer available

Collision Testimonial is slightly different from LTW (LessThanWeb). It does not provide an upload box for clients profile image, but it gives you a form where your clients can submit their testimonial easily to your site. From Pages -> Add New Page, insert these two codes to the HTML content of your Testimonial Page:
<!– collision_testimonials_page –>

<!– collision_testimonials_form –>
You can then review, edit (if needed), keep it on hold (hide it) until you decide to publish it.

#6  Video Testimonials from Clients – New Page
I am impressed by the video testimonial page by Denise Wakeman. She collected the videos from her clients and brilliantly presents the visual effects that speak louder than plain texts. If your clients don't mind, why not discuss with them for a video feedback? You may be surprised how many of them are willing to help out.
#7  Clients Success Stories
This is another great 'mutual benefit' I learned from Denise's blog.  While sharing her clients' success stories, not only they were in the spotlight but Denise's efforts were credited too. I'm sure Denise didn't ask them to do so, but out of their appreciation to Denise's work, they are more than willing to mention her. It may be something you'd like to try out, see it more as a relationship building with your clients. Set a special segment for their Success Stories – apart from a little exposure and inspire your readers, your quality work may be highlighted too. Best of both worlds, I'll say.
These are just some creative ways people can do by integrating Twitter favorites and using wordpress plugins to optimize their brand with Testimonials on blogs. In the coming post, I will be discussing on  how to promote your LinkedIn and facebook page with Testimonials for a similar purpose, stay tuned!
Now is Your Turn…
How would you like to present your Testimonials on blogs? Or any other social platforms for that matter? The comment is all yours!
Like what you're reading ? Subscribe via RSS Feed or email so you won't miss a thing: