How To: Add Excel Files To Blogger
Today, I'm going to show you how to

add Excel files to blogger

. There could be other ways to achieve the same results, however, I find this way more convenient for me. Thanks to
Google Docs
which makes it all possible.
Without further ado, let's go through this simple tutorial.
I've created a table in Excel file, and named it 'example'. Obviously, I cannot copy & paste it directly to 'Compose' session in blogger or the lines will go missing, leaving the data floating in mid air. So, here's what I'll do:
1. (In Microsoft Excel) File > Save As > Name the file (here I named it 'example').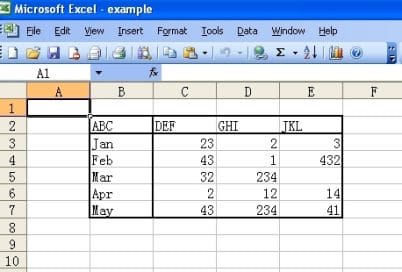 2. Go to Google Docs. Log in with your Google username & password.
3. You will be directed to a page illustrated below. Click 'Upload' and 'Browse' to locate the 'example' file we created earlier.

You can even rename the file before you 'Upload File'.
After loading, you'll have a spreadsheet opened for you, showing the table you just uploaded from your computer. Almost like Microsoft Excel, isn't it?

4. Highlight your table (in this case, dragging B2:E7). At the right side of your page, click 'Share' and you'll find a list of dropdown menu's, choose 'Publish as a web page'.

5. A pop up window appeared. In 'What Parts?", choose the Sheet where the table is at. Then, select 'More Publishing Options'.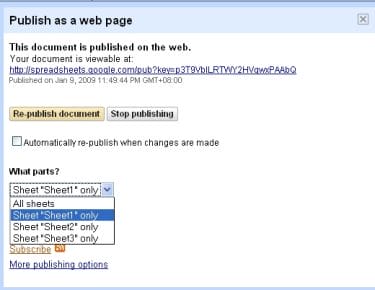 6. A list of dropdown choices:
– File format: HTML to embed in a webpage
– What sheets? : Sheet name where the table is at
– What cells? : According to the highlighted table, here is B2:E7.
Click 'Generate URL', you'll get the HTML code. Copy & paste it to your 'Edit Html' in Edit Posts session (of blogger).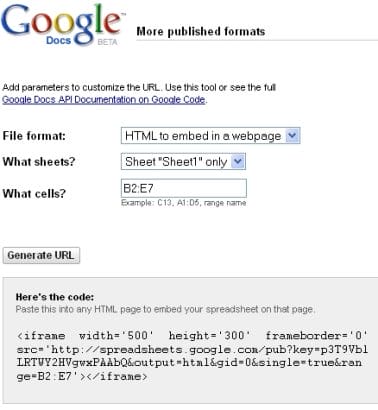 7. So here is the table in your blog post after hitting 'Publish'. There! Now your excel file is attached to your post!
It is possible that the border lines shown are slightly different from what it is seen in Excel file, but it's close enough. Perhaps some codes needed to be modified to suit your taste, but then it's another story (tutorial).
It is possible to do the same with Word, Power Point, even PDF files, since Google Docs can support these file types. I haven't tried it yet though, perhaps you could.
Hope you find this tutorial helpful. If you have better ways to add Excel files to blogger, by all means, do share with us.
Copyright © 2009 by Wong Ching Ya, All Rights Reserved, "How To: Add Excel Files To Blogger".