How to Manage Photos On Top of Your New Profile & Facebook Pages
I'm really grateful to Are for he had posted a great question here. I haven't actually wrote a detailed post about photo arrangements for either New Profile or the upgraded facebook page.
This week would be a great opportunity to go more in depth with both platforms! Truth is, we do need all the visibility we can get in facebook these days. Not to mention the ability to control which photos to show or hide from public eye.
Section #1 : How to Manage Your Photos in New Profile
It's always important to check your privacy settings before applying any changes to your personal profile. For your new profile, all the photos appearing on top of your wall are photos been tagged by you or your friends. Make sure you are clear of the privacy setting that controls who can view your tagged photos at #2 of this post.
Now, let's proceed with our photos arrangement in a new profile:
Creating a Profile Banner
In a profile banner, photo sequence is everything! There are many ways you can create a banner, some suggested to use app like Profile Banner but personally I prefer self-customization. I simply created a banner with the size of 485px x 68px and divided them into 5 photo strips. More about the photo size at Section #2 later, but once you got your photos ready:
1. First of all, upload your photos to your selected or newly created photo album in new profile:
2. When the photos are uploaded, you may choose to whether 'Publish Now' or 'Skip' it for later. I would go for 'Skip' as the news feed about your tagged photos will be updated anyway when we apply the tagging later.
3. Now in your album, identify your photo sequence and rearrange them if need to.
4. Before applying the photo tagging, do take note that the last photo you tagged will always show up at the farthest left on top of your profile. So if your photos are telling a story or been arranged to form a banner, make sure they are displayed so photo #1 is the first to be tagged, followed by #2, #3, #4 and #5 as shown below: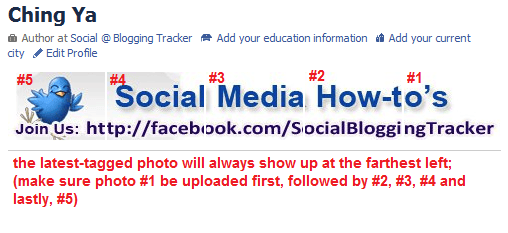 5. To tag a photo is easy, simply go to your album and tag your photos in proper sequence. Select the photo -> Tag this Photo ->Type or Choose your own name in the box -> click 'Tag' -> Done Tagging:
Solution: Unwanted Photos due to photo tagging by friends
Your profile banner can be easily disrupted once your friend had tagged you in another photo. Since there is no way to prevent people from tagging you, you can manage the unwanted tagged photos by:
i) Hiding tagged photo by 'x' (mouseover)
ii) Remove and untag photo from Wall
Section #2 : How to Manage Your Photos in (Upgraded) New Facebook Page
In the most recent post about enhancing your upgraded facebook page (some new tips were added at 'Extra Tips' section in that post, do check them out!), the #1 advice is to make use of the photo row to attract fans attention effectively. Unlike personal profile, these photos are not only tagged photos of your facebook page but also:
Your most recent uploaded photos
Randomly arranged
Obviously a page banner is not possible for now since we cannot control the photo sequence. Even so, there are some easy, exciting ways you can use the spot for publicity. See how my friend, Nancy is smart on making sure her business messages are sent through via the photos on her page:
From what I see, this is by far the best way to present the photos until other methods come around. Without further ado, let's see how we can learn from Nancy in controlling our photos on top of our fan pages:
1. Create and optimize your photo size to approximately: 97px (height) ×68px (width). (Photo sequence is not an issue here.)
2. Use photo editor such as Pixlr or Photoshop, even your very own Paint (Windows 7 version) to create the photos (more image editing app suggestions refer to section (b) of this post). Make sure the photos are striking enough to capture attention, better with a call to action like 'Click Here'.
3. When you're done designing your photos, upload them to your facebook page. Notice you can see them on top of your facebook page as soon as they are uploaded:

4. When your fan clicks at the photo, it will appear as a slideshow. Add image caption or URL that explains your promotion in details:
5. If you had added other photos after this, you can still grab the first spot on the left via tagging. Go to your album and select the photo you want to place #1 -> click 'Tag this Photo' ->Type or select your page name in the drop down menu -> click 'Done Tagging' :
6. Look! The tagged photo will appear just where you wanted it to be (so far only works on #1 photo from the left):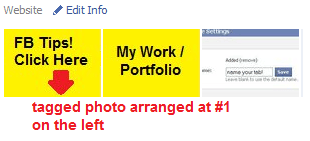 You can add as many photos you like to your facebook page and apply tagging whenever necessary. Of course, you can always 'hide' other photos you uploaded so only the default ones are showing on top of your facebook page. Most importantly, use your creativity and make sure each click-through is worth it for your fans.
Now Is Your Turn…
Have you discovered any smart ways to control photo arrangement on both your new profile and facebook page? What other ways you can suggest so page admin can make full use of their photos? Be sure to share your brilliant ideas in the comment below.
Like what you're reading ? Subscribe via RSS Feed or email so you won't miss a thing: