7+ Major Tips in Enhancing Your Upgraded Facebook Page
Three days ago, facebook announced an exciting news about Page Upgrade! Some of the most desired features are finally included such as page notification, ability to comment as the page profile and many more! I can't wait to share with you what I love about the new facebook page:
#1  Latest Photos Arrangement to Grab Attention
Clearly, the new profile launch was preparing us for this evolutionary change for facebook pages. Now your page is also featuring 5 photos on top of your page, displaying the most recent photos or the ones you've tagged your own page in. Fans photos are excluded here.
Notice that the photos are randomly arranged after each click-through. It is difficult to maintain the photo sequence to create a large banner as how we normally do in new profile. However, since the removal of the 'information' box and latest status update on top of the facebook page, admin will need all the visibility he/she can get to grab fans' attention. You should work out a method on how these photos can better assist in promoting your business without having to worry about photo sequence. This is something I intend to look further into.

Updated & Recommended to Read: How to Manage Photos On Top of Your New Profile & Facebook Pages

#2  Extra Length in Naming and Tab Descriptions
A lot of people see the new tab arrangement at the sidebar as a bad thing due to less visibility and click-through rates comparing to older design. After exploring them, I found there are hidden blessings within. Here are a few important tips about tab control:
a) Default Landing Tab STAYS
This could be the biggest concern of all, but good for facebook, this option stays for good.

b) Extra Spaces in Naming your Customized Tabs
Remember how we used to complain not having enough space in naming our tabs? Now you can have at least two rows of eye-catching description for your customized tab! That's a welcoming improvement in tab visibility at the left column.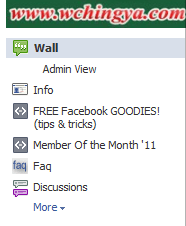 c) Edit and Hide Excessive Tabs
Unlike Merged pages, you can edit and hide your app tabs at will! Just click 'Edit' -> drag and drop the app tabs to arrange their order: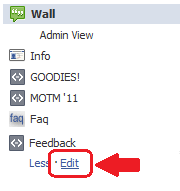 To have a less distracting sidebar, it's advisable to keep only the important tabs in sight. Remove the unwanted tabs by clicking 'Edit' -> click 'x' next to the app to hide it: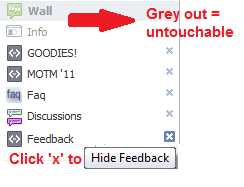 Remember, sometimes less is more.
#3  Improve Page Interaction with Page Notification & Admin View
Wall Posts are no longer arranged in chronological order, instead two new filters are given for viewing: 'Everyone' or 'your page name' (posts by admin only). By default, 'Everyone' will show fans the most engaging posts on your page. The good side is fans are encouraged to participate often for visibility. The downside, new posts are struggling to reach the top. Even popular posts may lapse over time. For example, Christmas or new year wishes may stay on top of your page due to >100 comments by fans, but it doesn't give much significance in value or info-sharing. This is another concern we need to work on in page engagement.

Page Notification:
This is remedied by the new page notification:
a) Email notification: Go to Edit Page -> Your Settings -> Tick the box for 'Email Notification' -> Save Changes. You can also change email settings for individual pages here :
b) Red on-site alert: You will have to 'Use Facebook as Page' (Logged in as Page Profile) in order to see them: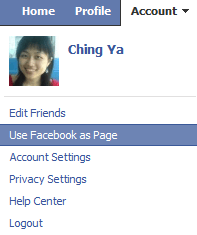 Then you can see page notification updates: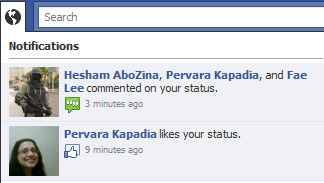 And it works for photo comments too! Hurray!

Admin View:
Page admin can easily view the 'Most Recent' posts and 'Hidden Posts' (Spam filter) via Wall -> Admin View option at the sidebar.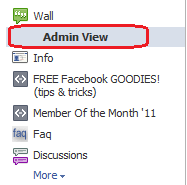 #4  Separate Business Interactions from Personal Profile
The upgraded page solves the biggest concern in separating personal life from business contacts. You can now do the following via identity switch between a personal and a page profile: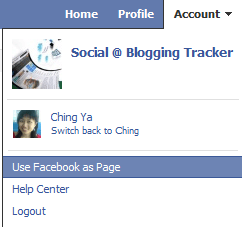 What you can do OUTSIDE managed pages:
Post comment as your business page without

status-tagging

feature.


A whole new section of news feed for your liked pages (or once known as 'favorited pages'):

What you can do INSIDE managed pages:
Page activities ('recent activity') are showing up on your page Wall


Find out mutual connections (mutual fans count) between other pages and yours in Recommended Pages:

#5  Effectively Build Relationship with Other Pages via 'Like' & 'Feature'
A page can finally 'like' as a page itself. There are two ways you can do this:
a) When logged in as your personal profile: click 'Add to my Page's Favorite', OR

b) When logged in as your page profile: click 'Use Facebook as Page'-> go to another page -> click their 'Like' button on top.
Best of all, you can decide which of your favorited/liked pages are showcased at your page's sidebar: Edit Page -> Featured -> Select the number of pages to be rotated randomly: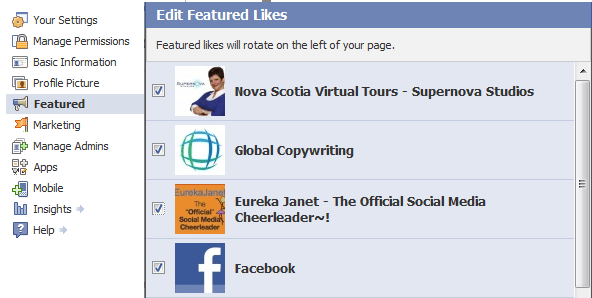 You can feature your own page admins too if like (but DON'T if you are separating business from personal life):
#6  Limitless Counts to Change Page Category
It used to be troublesome to request for a page category review from facebook. Now you can manually select the accurate group and category for your facebook page from Edit page -> Basic Information -> Category -> and see the immediate change after that:

And there is no limit of how many times you can change page category.
#7  Better Moderation to Reduce Spam via Moderation Blacklist
You can now add keywords in the 'Moderation Blacklist' to prevent spams from appearing on your wall or comments: Edit page -> Manage Permissions -> Moderation Blacklist:
It's great to see facebook is learning from their lessons with New Profile and merged facebook places/fan page by allowing 'Preview' before forced implementation. Page admin can switch back to public mode anytime if not satisfied, but NEVER after confirming the page upgrade. All facebook pages will be auto-updated starting March, 2011. Might as well get adapt and be ready for it.
Extra Tip:
Not sure if you noticed but Managed Pages is gone from our profile account. You can still reach your managed pages via this direct link or via Discover Facebook Pages -> Pages I admin.

Updated 01/03/2011:
We can now change ANY app tabs to our desired names. Go to Edit Page -> App -> select the app you wish to rename, click Edit Settings -> notice a new option 'Custom Tab Name' is given! Key in the name and 'Save'.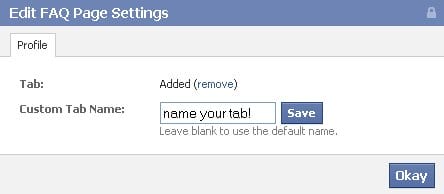 Some page comments may appear in GREY, which means they had been marked as spam by facebook and visible to page admin only. Release the legitimate comment by clicking 'x' -> Unmark as Spam so it is visible to all.
You're gonna love this! Facebook is giving us back the 'Most Recent' posts option on our pages! Hurray! The previous 'Admin View' is now switched to 'Hidden Posts' (also known as Spam filter).

NOW IS YOUR TURN…
So I'm eager to hear what you think about the new upgraded page? What is the biggest gain for you and what previous options you'd like to keep unchanged? Share your thoughts in the comments.
Like what you're reading ? Subscribe via RSS Feed or email so you won't miss a thing: