3 Easy Ways to Share Selective Tweets on Facebook Pages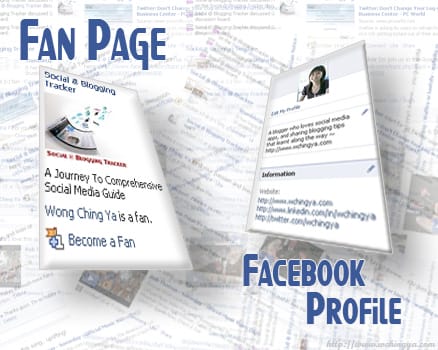 Having trouble separating social lives between leisure and work? Let Facebook Pages help you out.
I'm on Facebook Page for days now and glad that I don't have to bombard my own profile site with updates my friends find annoyed *chuckle*. But being active on Twitter, wouldn't it be fantastic if we get to publish selective tweets between personal and Facebook Pages? Good thing that's now doable in various Twitter platforms and I'm going to show you how.
3 Easy Ways to Share Selective Tweets on Facebook Pages
Tweetdeck (v0.30.5)
1. Go To Tweetdeck Settings > Accounts > Add New Account > Add Your Facebook account.
You will prompt to add your Facebook Pages as well. Isn't that convenient?
2. Approve the authorization to connect with Facebook by logging in.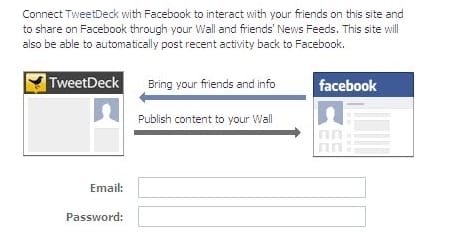 3. Tweetdeck will display all Facebook Pages that you are administrated.
Pick either or all for your preferences; publish posts or comments without repeated logins:

4. Now your can update your Facebook account or Page(s) via Tweetdeck.

Seesmic Desktop (v0.6.2)
1. Go to Control Panel > Accounts > Click the '+' sign & Add your Facebook account.
2. Click at the newly added Facebook account, you're optional to have either or both included for:
a. Administered pages – Facebook Pages you're an admin of.
b. Fan Pages – Pages you followed.

3. Make your selections after you've authorized and integrated Facebook Pages with your Seesmic Desktop.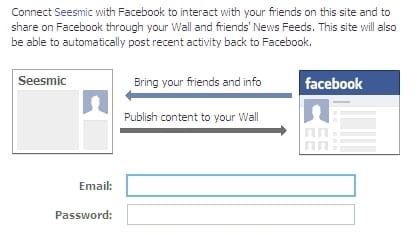 4. Configure the Extended Permissions to have posts/comments published via Seesmic Desktop without repeated prompting.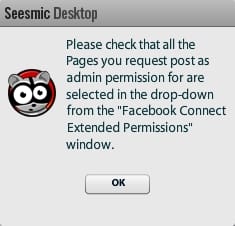 5. There! Add as many Facebook Pages you like and start your selective tweeting.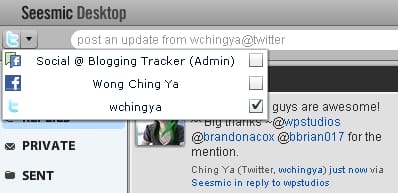 Twitter Web Page Interface
If your computer system is not compatible to either one of the desktop client above, Facebook has a plugin that'll work just fine with Twitter web page interface. Introducing:
Selective Twitter Status – choose particular tweets to be published on either Facebook profile or Fan Pages. Make sure your Twitter updates are NOT protected on Twitter. Put '#fb' at the end of each selected tweet as shown below:
a. Put #fb at the end of your tweet, for example–
Your message here http://your link #fb
b. have #fb followed by a space then a link, for example–
Your message here #fb http://your link
Add the Selective Twitter Status to your application. Remember to click 'Add to Page' first before proceeding to your Facebook Pages setup.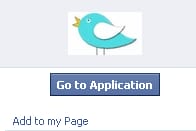 During the configuration, you can have either Your Profile or Your Fan Page(s) to integrate with Twitter account. We'll look at the Fan Page configuration first:
1. Go to 'Your Fan Pages'. Only pages you're an admin of will be displayed. Make your pick.
2. Type in your Twitter username > Save Changes.

3. In order to have BOTH Fan Page and personal account compatible with the plugin, you need to grant permission for Fan Page first before doing the same for profile.

4. After 'Grant Permission', you'll be directed to allow status updates as illustrated.
Choose your Fan Page first and click 'Allow Status Updates' before you do the same for your profile page.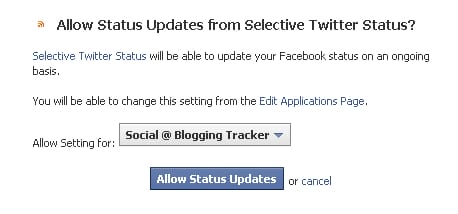 But make sure you have filled in your Twitter name first before authorization.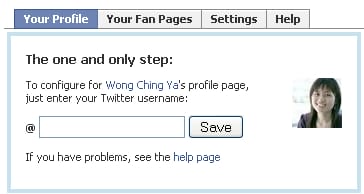 5. This is how the updates will appear in Fan Pages:

Isn't it great? Problems solved! Now you can post however and whatever you wish interchanging your Facebook personal account and Fan Pages.
It's Your Turn To Share
What other difficulties you faced while trying to integrate social media with one another? Do share your thoughts. And if you're on Facebook, why not say hi and let's connect at Facebook Page.