How To Pick Up From Your Blogging Downturns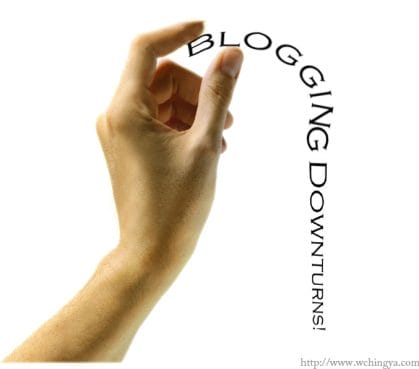 Have you ever been confined in your own limitations?
Are there obstacles stopping you from reaching your blogging goals?
Ever thought about quitting?
Some negative thoughts, you would say. In fact, they may hide somewhere inside your mind, waiting to strike once you hit the blogging downturns.
We all have ups and downs in life. No one ought to judge another as each has his/her imperfections when dealing with real life matters. I had visited a few blogger friends recently who are in the process of picking up their paces in blogging; or holding their online passions temporarily due to other matters.. That's perfectly understandable. I have nothing but respect for their courage and perseverance in continuing what they believe in — "It's tough but I'll survive."
Life is not a bed of roses, what really matters is how you able to withstand the challenges and pick up from what you left off. As a blogger friend of mine, David Doolin said it – beat the blogging blues!
How To Pick Up From Your Blogging Downturns?
1. Prepare Your Mindset
– Believe it as our minds control our acts. We are easily influenced by things we see, hear and feel. Before  you're getting into negativeness, correct your mindset asap! Don't let discouragements overrun you. Avoid vulnerability and get warmed up, set your mode to READY- SET- GO!.
2. Restructure Your Site & Blogging Goals
– Treat this an opportunity to rebuild your site with energy. List out steps required for modifications: change your theme, make your blog do-follow, give your presentation a breath of fresh air. Always a good idea to use mind mapping strategy if you're unclear of your present goals.
3. Reconnect with Readers/Blogger Friends
– Relationships are hard to build, remember those who diligently send you regards and wondering how've you been? Reach out to your readers through emails and visit their sites, explaining your comeback and how much you appreciate them sticking around your site while you're gone. Asking for opinions on what they expect to see in your site's revival. Spend time doing blog/social networking. To me, that's just as essential as getting a killer blog post ready.
4. Release your come-back-post with a BANG!
– As any comeback, first post is EXTREMELY important! You may need to explain your hiatus or disappearance but needless to go far with it. Why drain yourself more into negativity? Set it aside and go towards positivity. Either reward your readers with some giveaways, announce new blog plans and what to expect in coming posts etc — but make sure you're really on to that. Don't give false promises.
5. Get the Ball Rolling with Momentum
– You may need to do a little bit more to capture the attentions. I would suggest to either increase your posting frequency or give them the killer posts that you used to do! Provide visitors reasons to come back and support you. Remember, continue to build quality networks. A blog is useless without audiences. Return favors and be insightful in your commenting, you're representing the NEW you and your blog. Don't underestimate the power of such exposures.
6. Not Being The Forgotten
– Do you used to be active in forums? May be a good time to return and help out in answering some threads. Active in social media sites? Then get right on to it! Listen more to follow up the trends in your niche. Do not get yourself buried. You can even get in touch with your blogger friends and see if they're willing to help out in a mention for your post in Twitter etc. I believe it's not too much to ask, don't get too 'egoistic' to ask for a tiny favor. Ever heard of a friend in need is a friend indeed? Time to find out.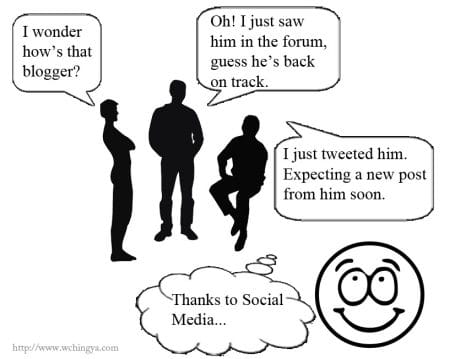 7. Patience. And Never Ever GIVE UP!
– To have everything under control you need to first keep away the loser thoughts of 'I CAN'T!' as far as possible! It's normal to get discouraged or horrified with so many 'extra' things you need to cover to make a come-back, or when you're not getting the results you hoped for. However, I can assure you every effort counts! Remember how you started blogging? It didn't take just a week to get PR 6 right? The condition now is way much better – you have connections, you exist in search engines! With experience and new determinations, you can still go a long way.
An Inspirational Clip That Moves Me
I was deeply moved by the clip below. Came across it while searching for 'Motivational Video' in conjunction with my husband's birthday. I never watched the movie before, but this is truly a valuable find. I dedicate this to all my beloved readers and blogger friends — never underestimate your ability to do something bigger. Throw away the negativity and push to the limit if you have to. Do your best and live with no regrets.
It's Your Turn…
I would love to hear you ideas on how you pick up from your blogging downturns. If you never experienced one, kindly suggest some relevant ideas on how to deal with the problem in the comments below. You just may help someone who needs them. ^^