25 Timeline Ready Apps for Enhancing Your Facebook Page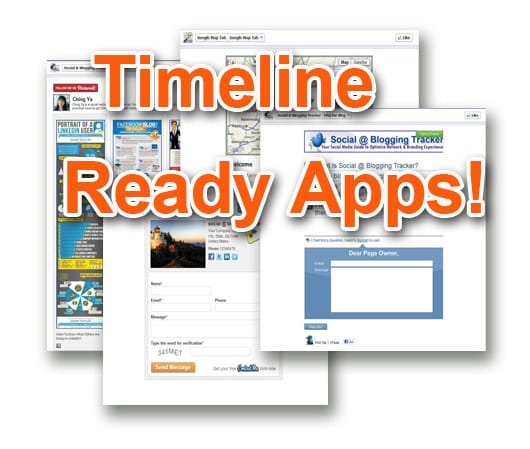 For page managers who know how to work with Facebook apps, the new Timeline layout for Pages is a great opportunity to highlight their application tab for maximum visibility and increase click through rates. But for those who aren't, finding those timeline ready apps can be a massive headache.
Before adding any facebook applications to your Timeline (layout) page, there are a few things you should know:
NOT all facebook applications are suitable for your Page
NOT all facebook applications are free
Understand the use of each app before installing
Understand each approved facebook app WILL HAVE access to a certain amount of your personal data on Facebook. Read how you can protect your privacy in

this post

.
Facebook app is an ADDED advantage to achieve a particular purpose you have for your brand (get leads, customer contact info) but certainly NOT a compulsory
It's OK to NOT install any third party apps on your page if you don't feel like it
The main purpose of this post is to offer some basic timeline app suggestions to those who need them, not to say these are a must but can help to enhance your facebook page if used properly. Most of these facebook apps are free to try before you're ready for advanced features.
This review is based on my personal opinion and has nothing to do with affiliation or app sponsorship whatsoever.
25 Timeline Ready Apps to Enhance Your Page
To Provide Additional Info about Your Brand
The 'About' section below your cover photo should be enough to explain what your brand is about. However, some people think that fans are not inclined to click 'About' for more info while for some places pages, this section is occupied by address, operating hours etc, which is why a FAQ app may come in handy:
#1 
FAQ Tab
A clickable banner or a written header with descriptions – to me, that's great for brand visibility. If your visitors are not getting enough help, there's a contact form they can use to reach you.
Or, you may consider FAQ page app for a much simpler layout.
#2 
Google Map Tab
For local businesses who added a valid address to your Page (or Places), there should be a Bing map tab showing like below:
Let's say if you wish to save the 'About' spot for other info, you can have a different tab for the map and address using Google map. This app allows you to include other relevant information about your premise as shown below. You can toggle between the preview mode and settings as you work on perfecting your tab:
Note: Removing the valid address from your Page may cause your page to no longer categorized as 'Places', thus, no check-in option is available.
For Further Enquiry about Your Brand
The easiest and non-techie way to allow fans feedback is to allow Messaging option on your Facebook Page. To do so, look for 'Admin Panel' -> Manage -> Edit Page -> Manage Permissions -> tick to show 'Message' button on your Page.
But, there are several reasons why a page owner prefers a contact form over Messaging:
To obtain customer details via required fields
To better manage users enquiries with a selected email address (non-facebook-login)
To have a proper email branding before responding to enquiries
Unable to export messages from Facebook inbox
To prevent messages been sent to 'Other' folder or marked as spam
Therefore, unless you are using your own email marketing software such as MailChimp or Aweber, you may consider:
#3  Contact Forms
i)
Contact Form
This app allows branding with a company banner and message text, including a success message after the user had submitted the form.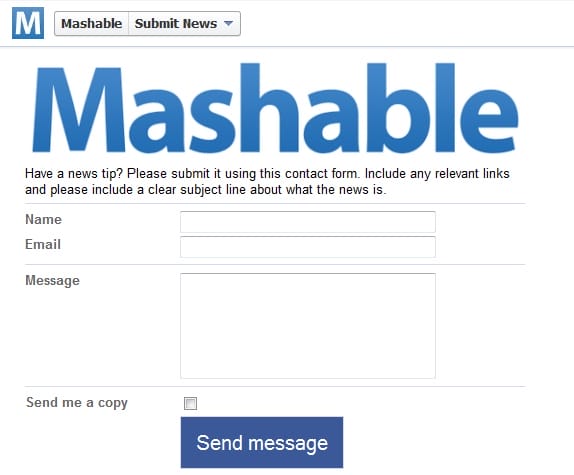 ii)
ContactMe
What I love about this form is the WYSIWYG (What You See Is What You Get) configuration interface. It allows more visual branding from adding a company logo to social accounts. Only premium users get to customize success message or automated response.
iii)
Contact Tab
This app has a richer interface along with facebook comments. You can customize your banner content using HTML, CSS and map iframe embed code (Bing or Google Map).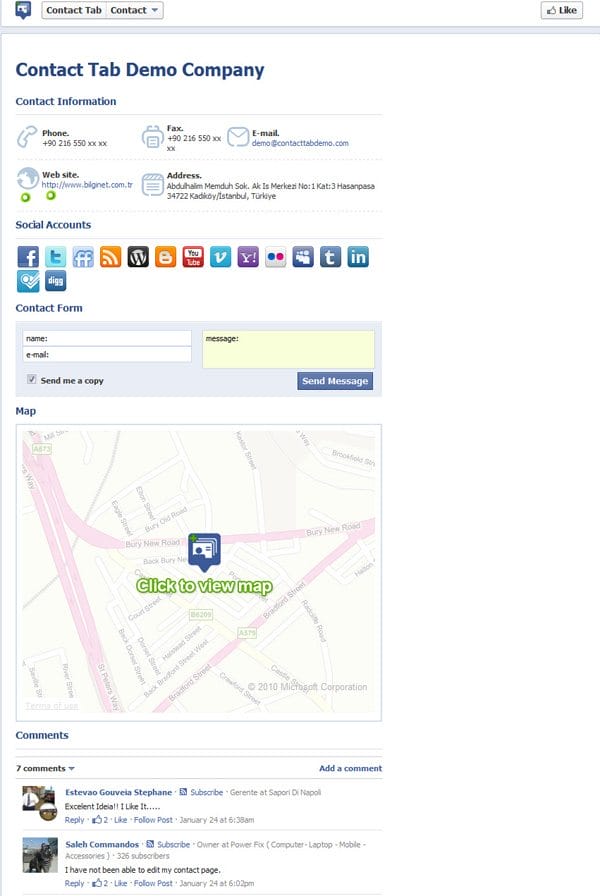 iv)
JotForm
JotForm provides richer customization options comparing to the above forms: form size, layout, background colors. In order to use it you must install an iframe app to your page. For free account holders, you can have unlimited forms (limited to 100 submissions per month) and 100MB size of storage.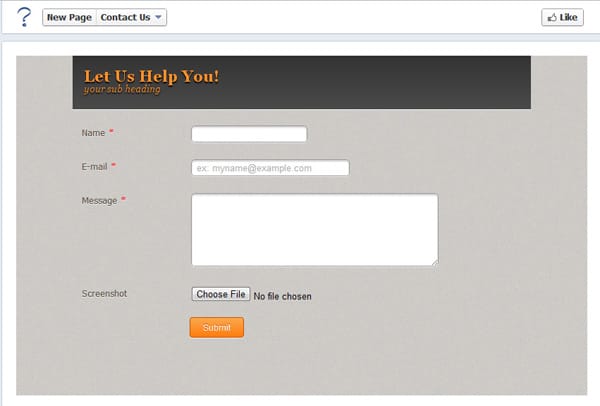 To Have In Depth Discussions Off the Timeline
While we all enjoy more engagement on the Timeline (page wall), some page admins prefer to manage lengthy discussions in a forum instead. If you're one of them, try:
#4 
Forum for
Pages
A replacement for the old facebook discussion board. What I love about this app is that you can import all discussions to another Page in case you need a big page transition. You can also set moderators (not necessarily a page admin) to monitor your discussion board. One thing it lacks is the notification alert so you need to check back for new updates from time to time.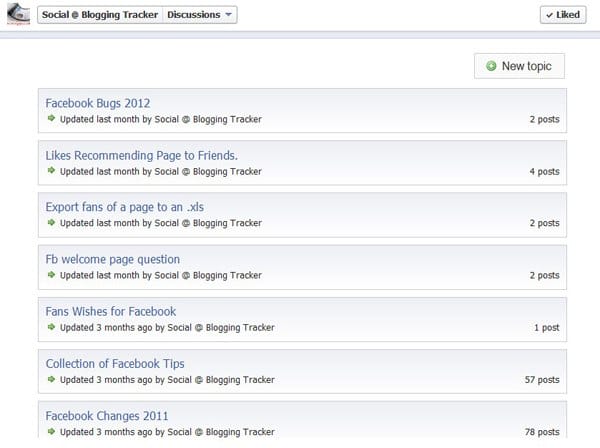 To Express Your Brand in Rich Media
#5  Videos
i)
YouTube For Pages

by Involver

This app can import your Youtube channel to your page, including your favorites (optional). Also, allowing fans to like, send and comment on your videos.
ii)
YouTube Video Box
YouTube Video Box is for selected videos only. Users can rate the video but won't be able to comment on it.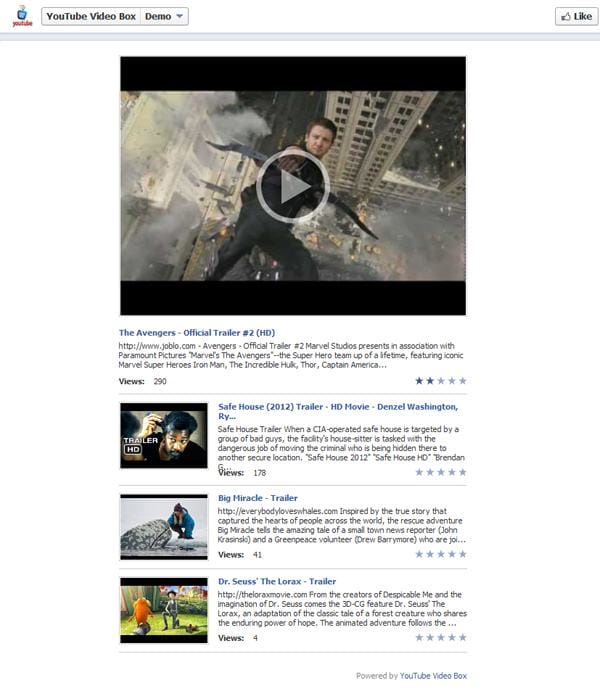 iii)
Tabmaker Youtube
Tabmaker Youtube can either import your YouTube channel (optional to display 3 to 24 videos) or selected videos of your choice. You can also apply fan gate, autoplay, add header image and facebook plugins such as like, send and facebook comments to your app. However, it doesn't come with video descriptions.
To Encourage Fans to Share Your Page
Although the maximum numbers of friends you can invite are 50 on facebook, NEVER invite too many friends too quickly at once. Also, some apps have too many ads displayed so I decided to go with these three with cleaner interface:
#6  Invitation to 'Like' Your Page
i)
Smart Suggest to Friends
Add your invitation message (not more than 255 characters) before you select friends to join the page: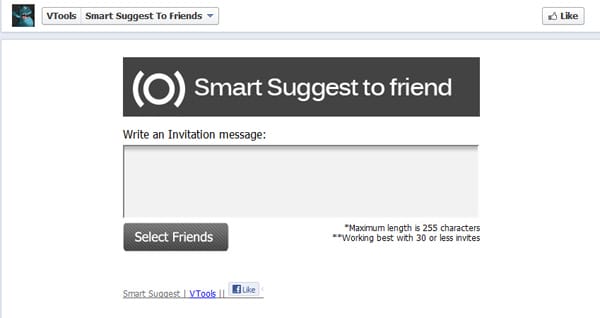 ii)
Tabmaker Invite Friends
Tabmaker invite Friends has the ability to add message and a header image to your invitation form, great for visual branding:
iii)
Invite Friends

by Iwipa

If you prefer a non-customizable yet presentable image, Iwipa has one that looks just as nice:
To Share Multimedia Files with Your Fans
#7 
Scribd for Pages
Scribd for Pages provide file-download; you can share various types of files from PDF, JPG, PowerPoint, Excel to plain text. Your fans can share these files across their other social accounts.
#8 
Extended Info
Extended Info only allows you to include links instead of hosting your media files, so it's advisable you pre-upload your mp3 or image files to your hosting server so you can share them with your fans via its direct link. No download option is available but you can add youtube video, add descriptions manually or even links to your recommended sites.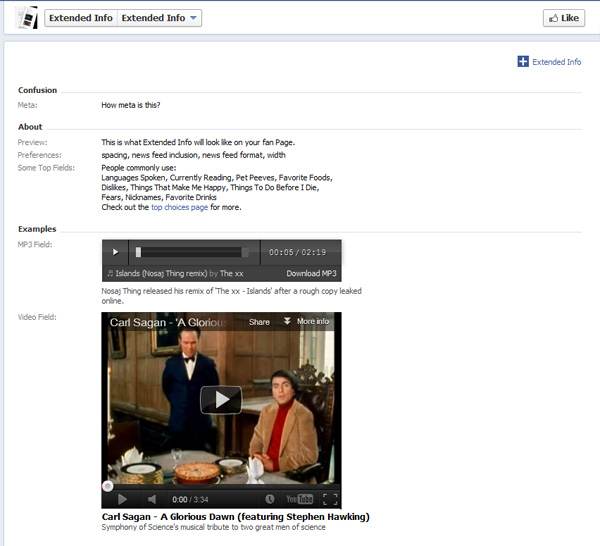 To Extend Social Network Connections
#9 
Twitter Tab
A Twitter follow button is all that matters in a Twitter tab: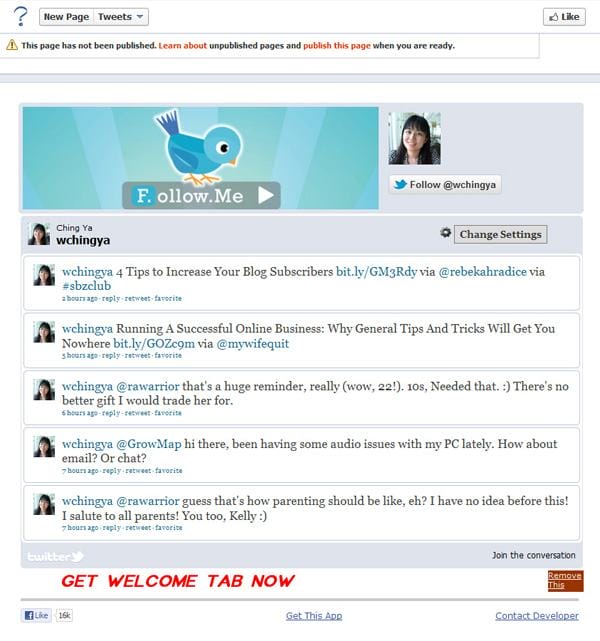 #10  Google Plus Tab
i)
Google Plus Tab

for Pages

This app comes with Google+ button for each public post. Your name is displayed above the tab, when clicked will be brought to your Google+ account:
ii)
Google+ Tab

by Tabfusion

This app does not provide Google+ button per post but it shows your profile descriptions so others can decide whether or not to add you.
#11  Pinterest
i)
Static Iframe tab

by Woobox

I still find this the best method to include a Pinterest app for free.
ii)
Pinterest tab

by Tabfusion

This app is not free but I had the opportunity to test drive it earlier and I love the layout displayed with a Follow Me button on top with profile description.
#12 
RSS for Pages

by Involver

For bloggers who wish to import their blog content, this app is equipped with post image, post excerpt, facebook like and send buttons. You can also publish your selected article to your Timeline via one click easily.
To Enhance Your Page with Custom Tabs
#13 
Static HTML: iframe tabs
For those who are familiar with HTML, CSS, Javascript, this app is a MUST HAVE to enhance your page content! Too many creative things you could do with it, such as a custom tab about your work (and this is even a basic use of it):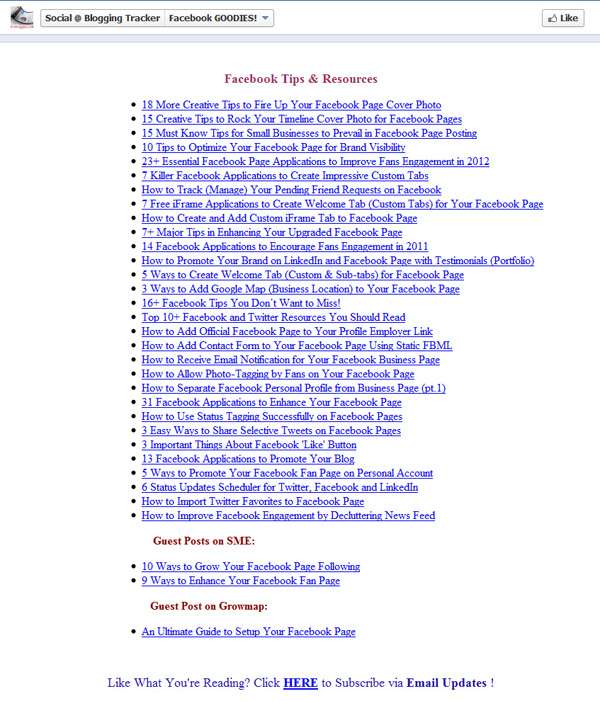 BONUS: Rich Media Apps for Fans Engagement (Optional)
Below facebook applications are fun to try. Who knows? Your fans may love them:
#14 
Fotobabble
Ask your fans to upload their 'talking' photos for a particular contest or campaign. Or, you can use this to say 'Hi' and greet your fans virtually on the page.
#15 
ThingLink
So much you can do with thinglink to feature your content creatively: video, music, art, links of your choice. An interesting way to tell your story and encourage fans to visit those media links when hover over. Below is just an example of how a tweet is displayed:
How to Change Custom App Images on Timeline Page?
You should try to customize own app images to fit your brand. I've included some examples in this post (at its 'Bonus' section).
There are supposed to be more apps in this list but due to post length, I decided to save some for upcoming post. Also, next week I will be covering an important topic about facebook apps, so be sure to stay tuned for it.
Now It's Your Turn
Are you using any facebook applications for your Pages? Do you have other apps to recommend? Feel free to do so in the comment.